The Fifth CAREC Think Tank Development Forum "Economic Corridors: Pathways to Regional Growth"
23 Nov - 24 Nov 2021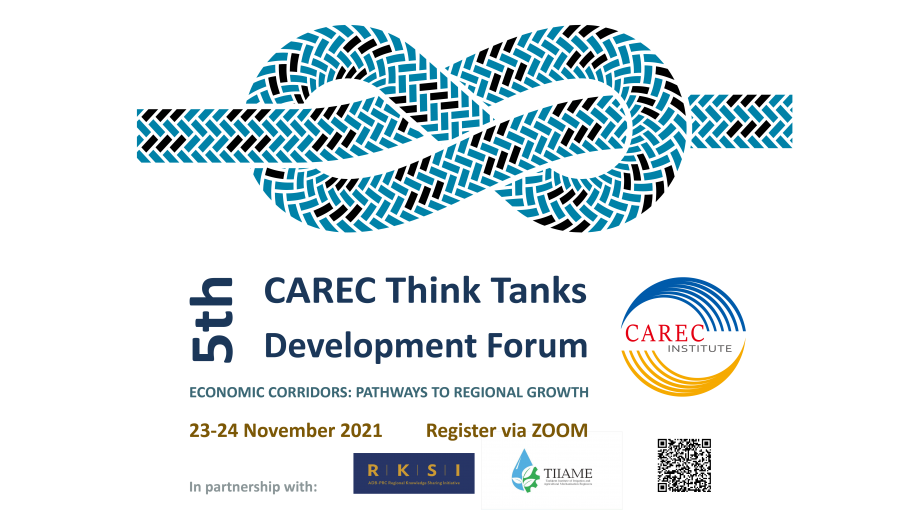 On 23-24 November 2021, the CAREC Institute organized the 5th annual CAREC Think Tanks Development Forum (CTTDF) on the theme of "Economic Corridors: Pathways to Regional Growth" in collaboration with the ADB-PRC Regional Knowledge Sharing Initiative (RKSI) and the Tashkent Institute of Irrigation and Agricultural Mechanization Engineers (TIIAME). Over 150 representatives of member governments, think tanks, universities, development partners, international organizations, and individual consultants attended the forum.
The CAREC Institute Director Syed Shakeel Shah welcomed the forum participants, and ADB Director General for Central and West Asia Evgeny Zhukov delivered the keynote address. In his keynote address, Evgeny Zhukov stated that some twenty years ago, the ADB introduced the term "economic corridors" to denote a new approach to promote regional integration that goes beyond transport connectivity. The concept implied improvement of living standards by boosting economic activities and trade between geographic locations, bringing multiplier effects to a broader geographic scale through invigorated infrastructural development, job creation, information, and technology spillover.
The forum speakers presented their perspectives and experiences exploring the economic case for developing the economic corridors, stocktaking of progress made on CAREC and BRI corridors and learning from the best practices in comparable regions such as the Greater Mekong Sub-region, South Asia Sub-Regional Economic Cooperation (SASEC) Program, and sub-national level corridors in Malaysia.
The speakers concluded that economic corridors are important tools for creating new economies by connecting factors of production through an integrated infrastructure linking cities and countries. For the CAREC region, the development of economic corridors offers immense opportunities for growth and development. There are big economic powerhouses around the CAREC region which can provide capital, technology, and knowledge of world markets for the successful development of economic corridors. The speakers also noted that the development of economic corridors is a complex and costly undertaking that necessitates multi-layered cooperation among governments, development partners, and the private sector.