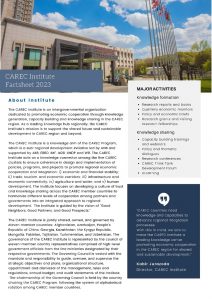 The new Factsheet of the CAREC Institute provides concise information about our work and accomplishments. In this Factsheet, you will learn about our institute, its main knowledge products and activities, and nine key facts.
CAREC Institute Factsheet 2023
CAREC Institute Factshee 2023_CN
Join us on LinkedIn, Weibo, and WeChat to stay up to date with our news, publications, and upcoming events.