Webinar on Development, Modernization, and Policy Nexus Induced by COVID-19
29 Jun 2020; online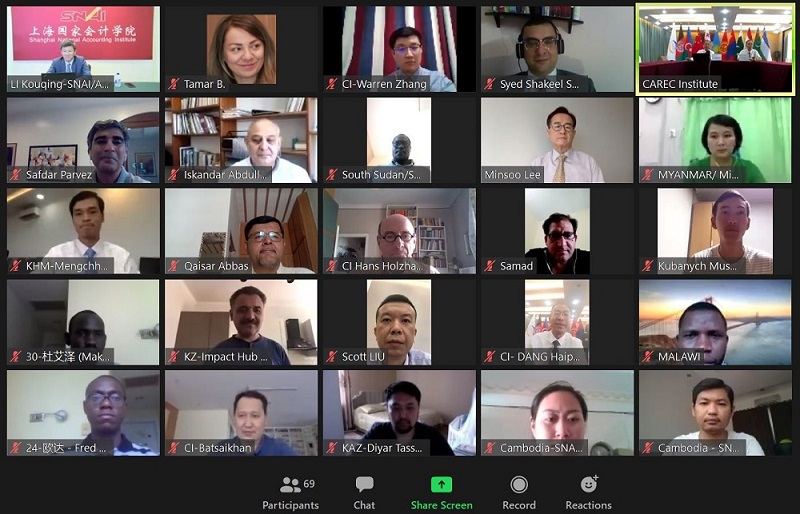 On 29 June 2020, the CAREC Institute, ADB, and Asia-Pacific Finance Development Institute (AFDI), co-hosted a knowledge sharing webinar on high-quality development, modernization, and policy nexus induced by COVID-19.
Dr. Minsoo Lee, Senior Economist, ADB, shared his insight on the given topic covering risks of a global depression and the criticality of a sustainable recovery. Dr. Lee noted that next few months are decisive for the global economy to protect employment and move from rescue to recovery which shall mark the beginning of a global transformation to strong, sustainable, inclusive, and resilient economic development and growth. He discussed the concept of "recover better" where countries must ramp up broad range of investment including physical, human, social, and natural capital. He also shared South Korea's experience of modernization as a guide for the PRC's 14th Five-Year Plan and discussed progress on modernization indicators for 1995 – 2018 years. Dr. Lee elaborated how modernization indicator analysis can apply to CAREC.
Dr. Hans Holzhacker, Chief Economist, CAREC Institute, and Dr. Wang Lei, Deputy Director of AFDI, joined as discussants with questions about cross-border supply chains, dependence on mineral fuels, green transition, and more.