China-Central Asia Accounting Elites Exchange Program
16 Dec - 20 Dec 2019; Shanghai, the PRC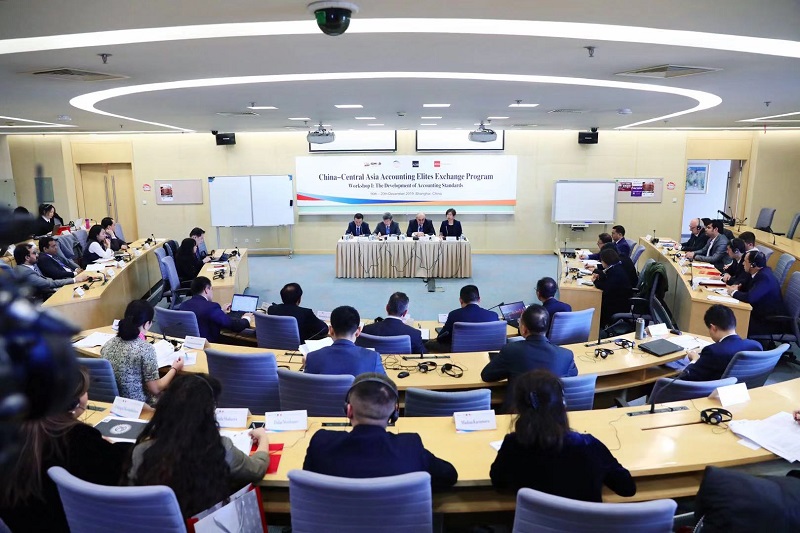 The CAREC Institute, and the Shanghai National Accounting Institute (SNAI) of the PRC, in partnership with the Association of Chartered Certified Accountants (ACCA) have launched a capacity building and knowledge sharing program titled "China-Central Asia Accounting Elites Exchange Program" on 16 December 2019.
The program convened senior accounting professionals from CAREC policy and regulatory bodies, academia, and the private sector to foster development and harmonization of the "accounting infrastructure" in the region. It intends to contribute to strengthening CAREC accounting systems in terms of institutional arrangements, human resource development, and regulatory mechanism; build a network of the PRC and Central Asia accounting elites to promote cooperation; build a foundation for unimpeded trade and financial integration; and promote discussions on accounting and related issues as well as explore potential solutions for various challenges.
The President of SNAI Mr. Li Kouqing, the CAREC Institute Deputy Director Two Dr. Iskandar Abdullaev, and Director of ACCA Greater China Ms. Ada Leung attended the opening ceremony and delivered speeches. "The accounting standards are like the railways of the world. Some are with wide tracks, some are with narrow tracks, and others are with standard tracks. When goods move from one country to another, you need to unload them and load them again because the tracks are different, and the rules are different. This increases the costs of transactions," said Mr. Li Kouqing.
Due to the discrepancy in accounting standards, regulations, and human development levels in the accounting sector among different economies, accounting data cannot be easily communicated, and accounting related risks cannot be effectively managed. As a result, such business language barrier increases cross-border transaction costs, hampering trade and economic cooperation at multiple levels.
The program consists of four workshops in two years. Through regular exchange and visits, and the use of virtual communities, in-depth discussions will be conducted on topics such as the accounting system development, talent cultivation, accounting regulatory development, accounting service system establishment, and accounting technology changes. The participants who complete all program requirements will receive the certificate of completion co-issued by all partners.
Event Materials
Key Documents