UNIDO signs Joint Declaration with CAREC Institute
7 Jun 2017; CAREC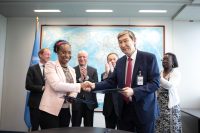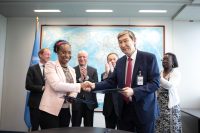 The United Nations Industrial Development Organization (UNIDO) signed a Joint Declaration with the Central Asia Regional Economic Cooperation (CAREC) Institute.
The declaration was signed by Kubat Umurzakov, director of CAREC Institute, and Fatou Haidara, managing director, UNIDO Policy and Programme Support.
It will enhance the cooperation between the two organizations in the areas of industrialization as a key driver for economic growth, and development efforts in the CAREC region. UNIDO will also support capacity building of CAREC government officials in analysis, strategy formulation, and policy instruments for their better engagement in regional cooperation processes and policy analysis.
The CAREC Institute is an international organization of 11 member countries working to promote regional economic development through providing knowledge products. It offers knowledge and relevant research and training to all CAREC member countries to support effective regional cooperation and coordination, and promotes access to and the application of international best practices in all CAREC initiatives.
The joint declaration will support inclusive and sustainable industrial development in Central Asia.