Think Tanks Discuss Digital Adoption for Sustainable Economic Development in Central Asia
16 Aug 2023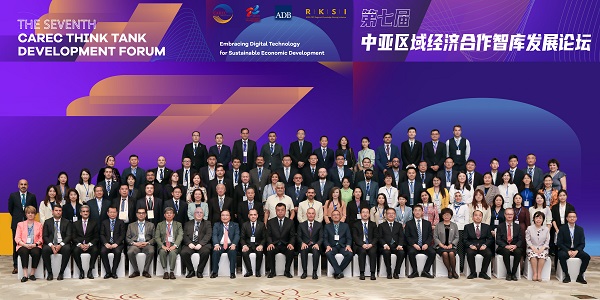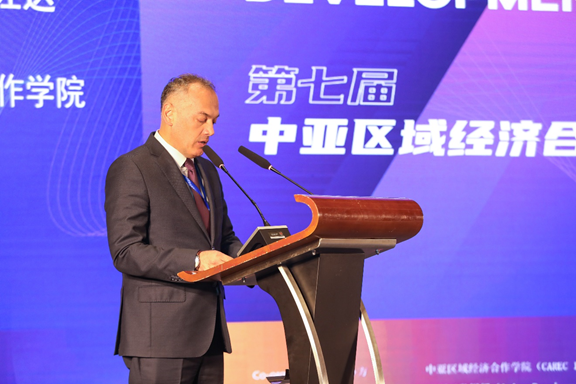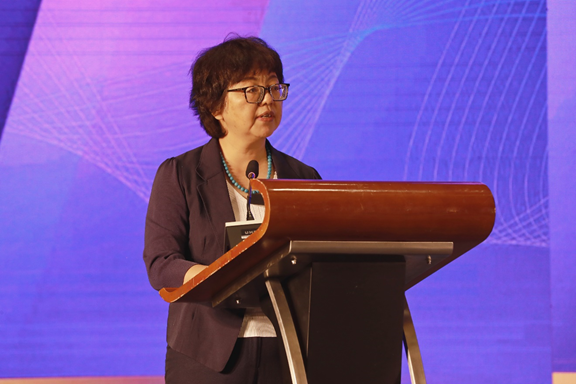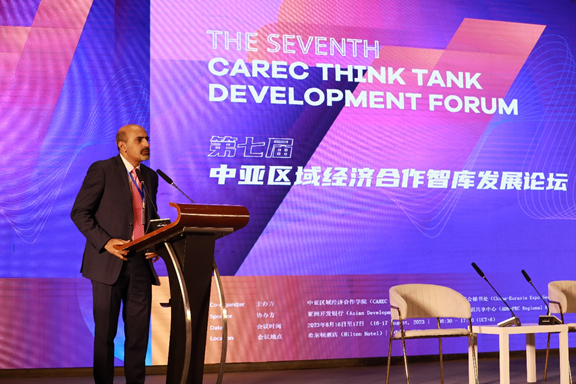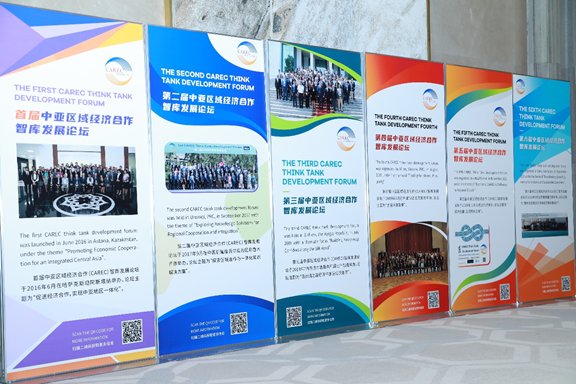 The Seventh CAREC Think Tank Development Forum was held in Urumqi, the People's Republic of China (PRC), on 16-17 August 2023. The Forum under the theme of "Embracing Digital Technology for Sustainable Economic Development" was organized by the CAREC Institute in partnership with China-Eurasia Expo Secretariat and Xinjiang Uygur Autonomous Region Finance Department, and with financial support from the Asian Development Bank (ADB) and the ADB-PRC Regional Knowledge Sharing Initiative.
Mr. Kabir Jurazoda, Director of the CAREC Institute, opened the Forum with welcoming remarks, emphasizing the importance of the work of think tanks in advocating for policies and presenting diverse perspectives and advice to policymakers in promoting the digital economy. He noted that the CAREC region has not yet fully and equitably benefited from the transformation of the digital economy, and coordinated and broad-based approaches are needed to unlock the vast untapped digital potential of the region. "A focus on addressing the existing imbalances in digital development across the CAREC region, regional digital collaboration and sharing of best practices will help CAREC countries to lay the basis for a sustainable and inclusive economic development," said Mr. Kabir Jurazoda.
The Forum consisted of eight thematic sessions with discussions of various aspects of the development of the digital economy. The first session discussed the CAREC region's experience and readiness for digital adoption by reviewing CAREC countries' progresses in formulating necessary digital strategies, developing critical infrastructure, and creating an investment-friendly business environment. Mr. Thomas Abell, Director of Digital for Development Division at the ADB, started the discussion by analyzing the overall role of digital technologies in driving sustainable economic growth. Mr. Talant Sultanov, Chair of the Center for Strategic Initiatives of the Kyrgyz Republic, spoke about digital strategies, infrastructure, and investments for digitalization in the CAREC region. They highlighted that all CAREC countries recognize digital transformation as their key development strategies and are adopting necessary governance frameworks for the ethical use of technologies, supporting the necessary education and training to increase digital literacy and skills for the workforce, and promoting digital entrepreneurship, innovation and the technology start-up ecosystem.
From regional perspectives to country case studies. In the second session, four national think tanks from CAREC countries presented their research on how digital technologies are used for green, sustainable and inclusive growth. Ms. Albina Muratbekova, Senior Research Fellow from the Eurasian Research Institute, spoke about how the special economic zones contribute to the digital transformation in Central Asia, providing tax and trade preferences. Dr. Burulcha Sulaimanova, OSCE Academy Researcher, recommended Central Asian countries to develop policy framework for digitalization and decarbonization, which include specific targets, a supportive legal framework, incentives, and rules to encourage investment in digital infrastructure, renewable energy, energy efficiency, as well as the introduction of smart technologies in different sectors and the development of digital skills. Mr. Asif Javed, Senior Research Associate from the Sustainable Development Policy Institute of Pakistan, spoke about the contributions of regional trade agreements to economic integration of Pakistan and Central Asia, calling for developing Pakistan's priority policy and action plan for achieving successful and sustainable regional digital trade integration. Mr. Farrukh Khakimov, Head of Department on Foreign Policy and Security of Uzbekistan's Development Strategy Center, spoke about Central Asia's experience in the digitalization of trade and the benefits of regional cooperation. He noted that ICT and digital solutions can help reduce trade barriers and facilitate cross-border trade, strengthening CAREC regional economic integration and cooperation.
As rapid technological progress has brought about new opportunities and challenges for the labor market, Forum participants discussed ways to bridge the digital divide and boost digital skills. Dr. Xiaojun Feng, Associate Professor of Sociology from China Agricultural University, explained why technological upgrading leads to job displacements, but also creates new jobs, causing both de-skilling and re-skilling of workers. At the global level, the uneven adoption of technology across countries leads to a digital divide that is reshuffling the global distribution of jobs, increasing the inequalities in labor force participation. Ms. Ana Pashalishvili, Programme Specialist at the Women's Entrepreneurship Acceleration/UN Women, spoke about barriers that women face in the ICT sector, and brought examples of how promotion of social entrepreneurship and ICT trainings for women helps improve the women's participation in the digital economy. Mr. Syed Hassan Alsagoff, Manager of the Department of Science, Technology and Innovation Cooperation and Capacity Development of the Islamic Development Bank, spoke about how the quality of education can be improved using digital technologies. He brought an example of the Flipped Classroom approach — a type of blended learning where students watch and study online videos on their own at home before classes and apply what they have learned at home through exercises in a traditional classroom model.
The Forum also hosted a South-South Seminar, where representatives of governments and the private sector spoke about their experience in application of digital technologies in their activities. Dr. Sherry Tao Kong, Associate Professor at Peking University, suggested CAREC countries to apply China's experience in e-commerce by ensuring the stable and affordable internet access, postal delivery and logistics services, promoting digital finance and working in synergy with local and national stakeholders. Senior Manager Public Affairs of Alibaba Mr. Remon Moes spoke about Alibaba's success story in global e-commerce development. The company promotes public-private collaboration in establishing inclusive global trade, including global digital commerce, finance, logistics and trade standards. Alibaba works closely with governments, entrepreneurs, experts and students, helping them to develop necessary new economic skills. Mr. Syed Shakeel Shah, Additional Secretary to the Prime Minister of Pakistan, spoke about Pakistan's experience in introduction of the single widow for trade facilitation and regional economic integration. Pakistan Single Window is an integrated digital platform that allows parties involved in trade to lodge standardized information and documents with a single-entry point to fulfill all import, export, and transit-related regulatory requirements. It helped reduce the time and costs of doing business by digitalizing Pakistan's cross-border trade and eliminating paper-based manual processes. Ms. Enkhtulga Ganbat, a Specialist of Cross-Sector Coordination of Mongolia's Ministry of Digital Development and Communication, presented her country's experience in application of ICT tools in optimization of public services. Mongolia uses the e-Mongolia platform to provide 994 public services for citizens and legal entities.
The digital technologies contributed to the development of digital finance. Mr. Khalid Umar, Chief of Strategic Planning Division of the CAREC Institute, spoke about the relationship between financial inclusion, financial technologies, and financial stability. He noted that financial technologies present a tremendous opportunity for reaching out to the financially excluded and underserved segments of the population by offering cost-effective and easily accessible financial services. CAREC countries need to create an enabling environment with appropriate regulations and incentives to encourage financial inclusion, and to expand financial education programs.
China has taken giant leaps in harnessing technology to deepen financial inclusion, presenting numerous policy lessons to CAREC countries. Ms. Jieru Ba, Senior Researcher from the Tencent Research Institute, talked about how China's mobile payment market contributes to financial innovation and inclusion. She suggested CAREC countries to consider the following factors from China's experience in promoting successful digital finance: i) to establish well-developed infrastructure with high-speed, stable and affordable telecom networks; ii) to adopt accommodative and prudential regulations; and iii) to stimulate innovations suited for local conditions.
The CAREC 2030 Digital Strategy reveals a blueprint for how digital tools and applications empower the economy and quality of life in the CAREC region. ADB representatives Mr. Roman Mogilevskii, Senior Economist, and ADB consultants Mr. Naveed Zafar Durrani, Ms. Shuqi Su and Mr. Eli David presented an overview of the CAREC 2030 Digital Strategy, various initiatives taken under this strategy to create interactive and collaborative startup ecosystem that encourages innovations. They noted that digital innovation, entrepreneurship and ICT competitiveness lay the foundation for a start-up ecosystem community capable of applying digital technologies to make change and effectively modernize the economy.
Representatives of CAREC think tanks Dr. Zhang Jin, Vice President of the Center for International Knowledge on Development (the PRC), Mr. Zeeshan Salahuddin, Director of the Center for Regional and Global Connectivity, Tabadlab (Pakistan), Dr. Tuvshintugs Batdelger, Director of the Economic Research Institute (Mongolia) and Mr. Mahir Humbatov, Chairman of the Board Economic Scientific Research Institute (Azerbaijan) shared their thoughts on how think tanks can help countries navigate the uncertainties of the global economy and geopolitical landscape. Through advocacy research and dialogue, think tanks can provide policymakers and stakeholders with the information and recommendations they need to develop effective policies that promote economic growth, stability, and prosperity.
During the closing session, Dr. Huang Jingjing, Deputy Director One of the CAREC Institute, praised the outcomes of the two-day discussion. She noted that the CAREC Institute's annual think tank forum serves as a platform for discussing important regional issues and strengthening cooperation between governments, think tanks and the private sector. The Forum promotes economic cooperation in Central Asia and along the Silk Road through knowledge formation and exchange.