The 4th CAREC Think Tanks Forum Concludes
28 Aug 2019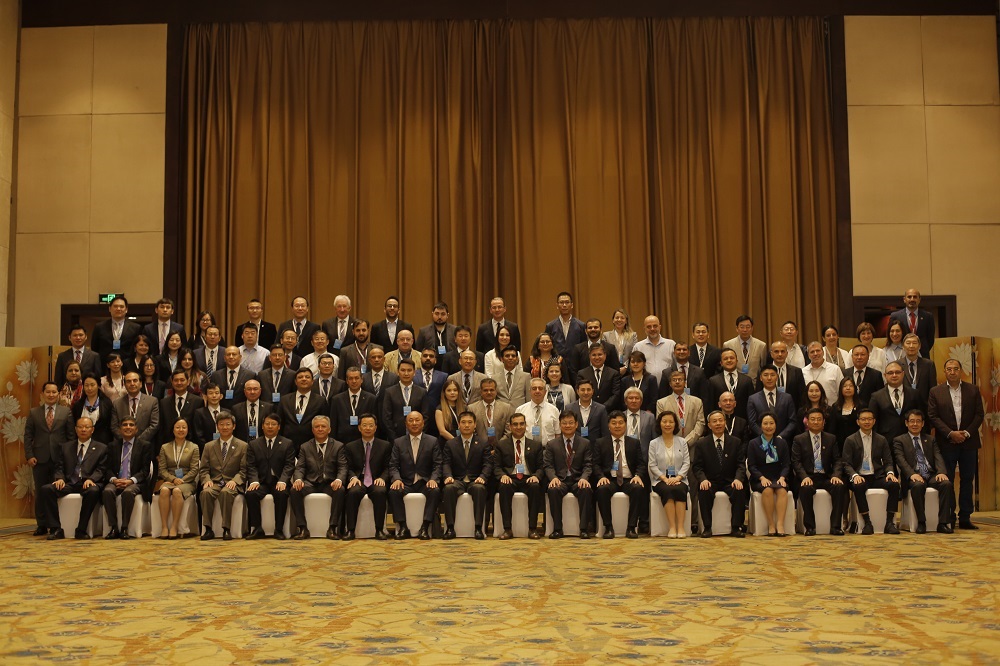 The Central Asia Regional Economic Cooperation (CAREC) Institute has organized the fourth CAREC Think Tanks Development Forum (CTTDF) in cooperation with the Asian Development Bank (ADB), Regional Knowledge Sharing Initiative (RKSI) and International Economics and Finance Institute (IEFE) of the Ministry of Finance of the People's Republic of China (PRC) on 27-28 August 2019 with a theme of "Trading for Shared Prosperity" in one of the ancient cities and starting points of the Silk Road, Xian, Shaanxi Province, the PRC.
ADB's Vice President Mr. Shixin Chen, Deputy Director General of the Ministry of Finance of the PRC Mr. Liu Weihua, Shaanxi Province Deputy Governor Mr. Xu Datong, Deputy Ministers of CAREC counties, and Directors of international organizations and renowned scholars of research institutions attended the forum – over 130 participants from over 20 countries.
"The CTTDF provides a powerful platform to think tanks to augment the policy making for improving lives of millions through evidence-based research for planning and implementation of CAREC projects and initiatives. The CAREC Institute brings these perspectives to high-level platforms, such as CAREC Ministerial Conference and Senior Official Meetings to facilitate related decision making," said the new CAREC Institute Director Mr. Syed Shakeel Shah in his welcome remarks.
Mr. Shixin Chen of ADB remarked that the global trading environment remained volatile with concerns of growing protectionism, and expressed his assurance that it was possible for trading countries to grow together and benefit as they abide by internationally-agreed rules and principles. He elaborated that the CAREC program continues helping countries[1] overcome obstacles to trade by improving regional connectivity, harmonizing customs procedures, reducing tariff and non-tariff trade barriers, and supporting accession and performance of CAREC countries to and within the WTO.
The forum participants discussed regional integration, trade as a means of achieving the United Nations Sustainable Development Goals (SDG), ongoing trade disputes, standardizing logistics along the Silk Road, technological interventions, e-commerce and their impacts on the regional economy. Preliminary findings of new research were discussed, and a new research fellowship program[2] was announced.
The CTTDF is an annual flagship event under the CAREC Think Tanks Network (CTTN), which is a regional network of leading think tanks and research institutes in the CAREC region to promote regionalism through sharing of ideas, data, information, and joint research.
Within the specific context of CAREC, regional integration is understood as a strategy that promotes the benefits of collective and collaborative activities among member countries through economies of scale, more vigorous intra-regional trade, expansion of markets, shared information platforms for exchange, and harmonized frameworks for social and economic interaction.
The CAREC Institute had an opportunity to share country-level proposals designed based on the rankings under the CAREC Region Integration Index (CRII). The proposal paper grouped 11 countries as outliers, moderately integrated, and rather integrated, and suggested measures for each group to deepen integration. Overall, the CRII average stands at 0.37 (out of 1) which is below other regional and sub-regional integration indicators and is suggestive of low integration. Recommendations included the growth triangle approach promoted by the ADB in the early 90s to regroup countries along geographical lines or around sectors with complementarities to reduce intra-regional competition and overlapping interests, enhance cooperation, and provide differentiated strategies for sub-regions.
Preliminary findings of the CTTN Research Grants Program were presented to draw lessons from policy interventions and adjustments that have shown limited results, but have the possibility of policy changes, innovations, reversals, and readjustments. Researchers assessed the topics of CAREC country participation in regional and global value chains, impact of quality standards on trade flows, evaluation of tourism value chain, agricultural food trade opportunities and challenges, and adopting trust-based approaches to existing methods of interaction to enhance the enterprise of regional cooperation and integration.
Further, the forum participants discussed the US-China trade war and reasoned that the crisis which the rules-based global trading system faces today due to departure from multilateralism and unilateral use of higher tariffs by the US is predicted to affect the global economy, namely through disruption of global and regional supply chains, intensification of China's activities under the Belt and Road Initiative (BRI), and establishment of Asia-wide free trade zone. To restore the rules-based international trading order, it was argued as a necessary measure for the US to return to multilateralism, China to shift to true market economy, and the World Trade Organization (WTO) to reform its current system.
Presentations were made about the CAREC Integrated Trade Agenda (CITA) 2030 which aims to assist CAREC members to integrate further into the global economy. It seeks to enhance the growth potential of CAREC members and improve the living standards of its people through reforms across the following three pillars: 1) trade expansion from increased market access, 2) greater diversification, and 3) stronger institutions for trade.
In conjunction with the CITA, discussions were held about cross-border economic corridors which represent integrated economic regions that span two or more countries. Typically, they include several big cities and territories around and between these cities. They are characterized by superior connectivity (including transport and digital connectivity), seamless movement of goods and people across borders, and extensive cross-border trade and investment flows. They involve cross-border value-chains and clusters of economic activity. The forum discussed the Almaty-Bishkek and Shymkent-Tashkent-Khujand cross-border economic corridors, and the rationale, major challenges, and favorable factors for development of such corridors in Central Asia.
The forum proceeded to look into e-commerce penetration rate in China and Pinduoduo's innovative e-commerce platform which revamped the agricultural product supply chain distribution layers in China, reducing them from eight to two, connecting farmers directly to millions of Pinduoduo's buyers online. Pinduoduo also introduced their talent retention approach, and told the forum participants how they returned 62,000 youth residing in big cities back to rural areas to become local businessmen and help modernize their enterprises. Pinduoduo introduced their poverty alleviation and rural area revitalization programs, and social responsibility promotion software "DuoDuo Orchard." In just four years, Pinduoduo reported 3.6 million active vendors, 65.3 billion Yuan worth of agricultural product sales in 2018 alone (233% annual growth rate), where over 140,000 vendors residing in poverty-stricken areas of China sold 16.2 billion Yuan worth of agricultural products.
Discussions proceeded to look into complications of international trade transactions where reportedly, on average, 30 different parties are involved in a single transaction from the commercial, logistics, financial and regulatory sectors which operate in silo business processes and rely on conflicting standards developed by sector-centric bodies. Further, no standard has effectively addressed all four sectors of international trade, with particular disconnect existing between finance and the other three sectors: commercial, logistics, and regulatory. This obstructs end-to-end supply chain transparency and visibility, trade finance, insurance, asset efficiency, and regulatory compliance. The participants discussed the necessity of an open micro-services architecture that implements international standards-based semantics to derive actionable insights from disparate data. The latter requires understanding its context within the agreed trading pattern. This is only possible by linking collaboration processes and semantically understanding data across the four sectors of international trade.
A representative from the United Nations Economic and Social Commission for Asia and the Pacific (UNESCAP) reviewed three dimensions which affect development of e-marketplace: 1) economic factors and conditions which affect accessibility and viability of e-commerce activities, 2) legal and institutional environment which legitimize e-commerce-related activities, 3) social acceptance and awareness which affect behavior of individuals and organizational decision-makers. The CAREC countries were reported at a nascent stage in terms of e-commerce and cross-border e-commerce legislation development. To unlock the potential of digital trade and e-commerce, it is imperative to: 1) enhance affordability of and access to ICT, 2) introduce legal, regulatory and institutional reforms, 3) improve logistics and delivery infrastructure, 4) intensify regional efforts to modernize and harmonize regulations, and 5) broaden the e-payment availability and options.
The outcomes of the forum will be discussed in future CAREC inter-governmental platforms.
The fourth forum report will be made available on the CAREC Institute website at the end of 2019. The second and third forum reports can be accessed on the internet.