Symposium "China- Central Asia Cooperation on Digital Economy Innovation and Governance"
5 Jul 2023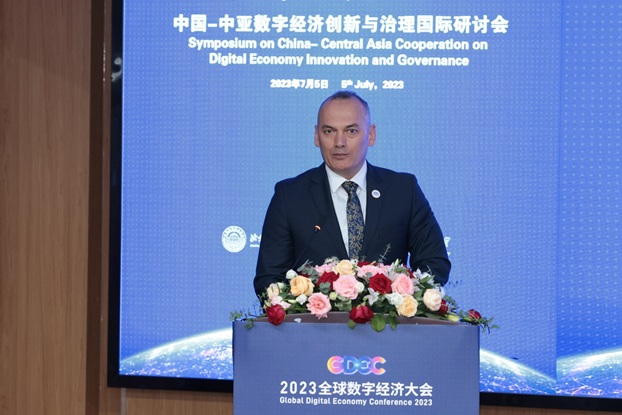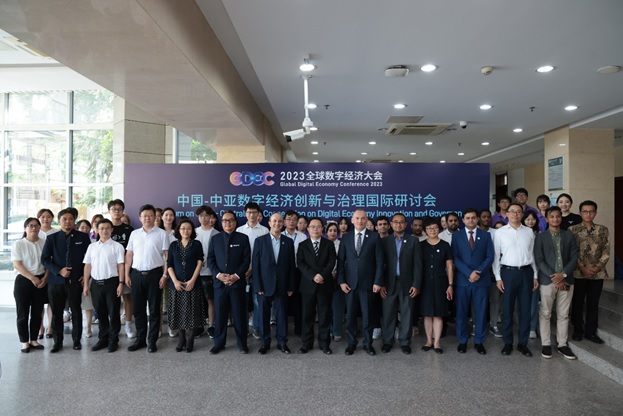 On July 5, the CAREC Institute hosted a hybrid symposium on "China- Central Asia Cooperation on Digital Economy Innovation and Governance" in partnership with Beijing Association for Science and Technology, Beijing Technology and Business University (BTBU), and Economic Cooperation Organization Science Foundation. The symposium was organized as part of the Global Digital Economy Conference 2023, themed "Data Driven Development, Intelligence Leading the Future," which aimed to create a platform for exchanges and cooperation for the advancement of the global digital economy development landscape.
Mr. Kabir Jurazoda, Director of the CAREC Institute, in his opening remarks emphasized the importance of international collaboration in overcoming the complexities of the global digital economy that are transcend national borders and require collective action. By developing strong partnerships, sharing best practices, and engaging in constructive dialogue, countries can create a global ecosystem that thrives on collaboration, trust and mutual understanding. The CAREC region is strategically located at the crossroads of Europe and Asia, offering enormous potential for trade, connectivity and innovation. In recent years, the CAREC region has witnessed remarkable progress in digital development. National governments and private sectors have collaborated across borders to use technology and innovation for economic diversification, job creation and social transformation. Initiatives such as developing digital infrastructure, promoting e-commerce, and establishing digital innovation hubs have propelled the region toward a digitally empowered future. "More importantly, CAREC countries are sharing their knowledge and policy best practices to support the development of the digital economy, and the CAREC Institute is helping to do this by leveraging the knowledge potential of developing countries, making the region more prosperous and integrated," said Director Kabir Jurazoda.
During the thematic seminar of the symposium, which was moderated by Deputy Director One of CAREC Institute Dr. Huang Jingjing, researchers from the CAREC region — Dr. Asif Razzaq, Senior Research Specialist of the CAREC Institute, Dr. Rahat Sabyrbekov, Postdoc fellow at the OSCE Academy, Mr. Farrukh Khakimov, Head of the Department on Foreign Policy and Security of the Development Strategy Center of Uzbekistan, Mr. Azimzhan Khitakhunov, Senior Research Fellow of the Eurasian Research Institute of the Khoja Akhmet Yassawi International Turkish-Kazakh University, Mr.Asif Javed, Research Coordinator of Sustainable Development Policy Institute, Dr. Di Yuna, Associate Professor of the BTBU School of Economics and Management, and other scholars — held an in-depth discussion on the potential, policies and mechanisms of digital economic cooperation between China and Central Asia.
During the symposium Director Kabir Jurazoda and Mr. Liu Minhua, Vice President of BTBU, signed the memorandum of understanding between the CAREC Institute and BTBU. The partnership aims at supporting the mechanisms for the exchange of knowledge and experience. The parties agree to jointly organize and participate in forums, conferences, trainings, seminars, and academic and professional meetings, provide necessary mentorship and learning opportunities for young professionals, conduct joint research, and foster capacity building activities.