Staff Paper: Geographical Proximity and Trade Impacts in the CAREC Region
25 Apr 2023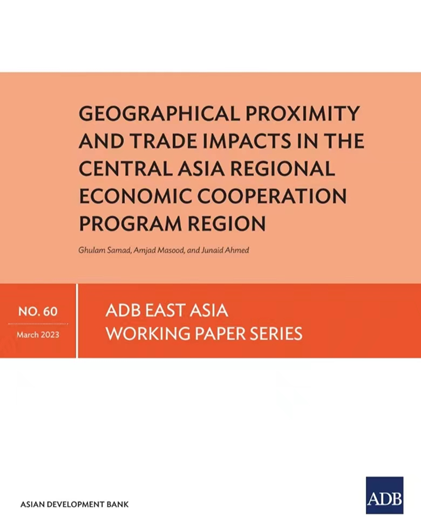 Senior Research Specialist of the CAREC Institute, Dr. Ghulam Samad co-authored with Amjad Masood, and Junaid Ahmed a working paper on "Geographical Proximity and Trade Impacts in the Central Asia Regional Economic Cooperation Program Region." The paper is available in the ADB East Asia Working Paper Series (see No. 60, March 2023). The study explores how trade facilitation measures at border crossing points of CAREC countries improve trade generation using the structural and spatial gravity models with the Corridor Performance Measurement and Monitoring (CPMM) data. The findings indicate that similarities in languages, colonial history, and large trade volumes are conducive to trade growth. The subnational trade facilitation measures in neighboring areas also generate additional regional trade. Furthermore, the study finds that electronic sanitary and phytosanitary certification can facilitate increased trade. Implementing electronic sanitary and phytosanitary certification expedites clearance times and reduces costs incurred at border crossing points. The authors conclude that trade agreements—such as regional and free trade agreements and preferential trade agreements—facilitate trade at the border crossing points of participating countries.
The authors make the following recommendations for CAREC countries to implement policies on fostering trade facilitation and better data collection for future policy analysis:
(i)CAREC members should encourage digitalization of the trade facilitation indicators—for example, electronic sanitary and phytosanitary certification—that plays a significant role in trade facilitation at the border crossing points.
(ii)A pragmatic and implementable approach can be developed by the relevant stakeholders for regional trade, free trade, and preferential trade agreements between CAREC partner countries to facilitate trade through the border crossing points.
(iii)CPMM provides data at the border crossing points that are useful for its trade facilitation indicators, but the border crossing point trade data needed for more robust country-specific trade analysis at the border crossing point level are missing. The study suggests that CAREC members collect trade data at the border crossing points so that holistic trade generation analyses can be carried out at a border crossing points level.
(iv)Contiguity analyses are missing at the regional level, mainly due to data limitations. For a holistic, robust, country-level spatial analysis, CAREC members should collect data at the regional, national, and subnational levels.