Partnership Meeting with Westminster International University in Tashkent
28 Feb 2023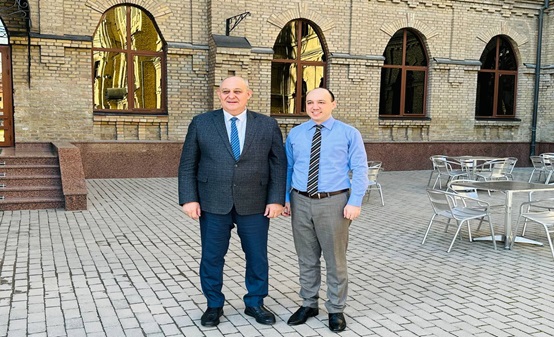 On 28 February 2023, Dr. Iskandar Abdullaev, Deputy Director Two of the CAREC Institute, met with Dr. Bakhrom Mirkhasimov, Rector of Westminster International University in Tashkent (WUIT) and Ms. Etenesh Asfaw, Senior Research Fellow of the Centre for Policy Research and Outreach (CPRO). Both WUIT and CPRO are long-standing partners of the CAREC Institute.
During the meeting, Dr. Iskandar Abdullaev spoke about the activities of the CAREC Institute, including the current research areas and capacity building programs, emphasizing the previous fruitful cooperation with the university and the center as part of the CAREC Institute's Research Grants Program and Visiting Fellow Program. Both WUIT and CPRO contributed to the research work performed by the CAREC Institute over the past few years. Dr. Iskandar Abdullaev expressed the readiness of the CAREC Institute to continue the friendly cooperation with WUIT and CPRO within the framework of the CAREC Institute's Rolling Operation Plan for 2023-2024.
Dr. Bakhrom Mirkhasimov shared information about WUIT and CPRO, proposing some areas for cooperation. In particular, he proposed to introduce a research exchange program with the CAREC Institute so that researchers of the institute could visit WUIT to conduct research. The parties also discussed the possibility of conducting research and capacity building activities in the field of public health with the participation of university students, joint publication of research books, and hosting the CAREC Think Tank Development Forum in Tashkent.