Partnership Meeting with the Islamic Development Bank
28 Feb 2023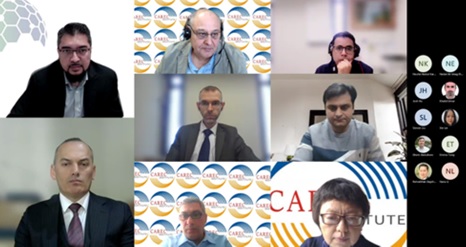 The CAREC Institute and the Islamic Development Bank held a partnership meeting on 28 February 2023 to discuss potential areas of partnership between the two organizations for 2023 and beyond.
Both parties fruitfully cooperate in research projects on digital economy issues. In 2021–2022, as part of the partnership between two organizations, the CAREC Institute conducted two studies that contribute to the implementation of the CAREC Digital Strategy 2030. The first study was conducted on four attributes of the digital divide: digital infrastructure, digital payments, e-commerce, and Internet access. The results of the study are published in the research report "Digital CAREC: Analysis of the Regional Digital Gap". The second study aimed to explore the different deriving/inhibiting factors of digital FDI in the CAREC region based on five critical aspects of digital FDI: (i) new digital activities, (ii) digital adoption, (iii) digital infrastructure, (iv) digital FDI restrictions; and (v) digital promotion tools. The results of the joint study are presented in the research report "Report on CAREC Digital FDI Ecosystem in the CAREC Region".
During the meeting, the parties discussed broader areas of cooperation in the field of research, capacity building, knowledge management, development of think tanks network and harnessing the potential of the CAREC Institute's e-learning platform. The parties highlighted two potential areas for further collaboration, such as (i) deploying telemedicine to rural areas, and (ii) the flipped classroom methodology in education as potential areas for collaboration. The parties agreed to strengthen the capacity of CAREC member countries by combining research and capacity building activities to develop and implement programs that effectively meet the countries' needs in these two areas.
The parties expressed their commitment for further cooperation in promoting knowledge for regional cooperation and integration in the CAREC region.