Papers from the CAREC Institute Published in Asia Pacific Sustainable Development Journal
16 Nov 2023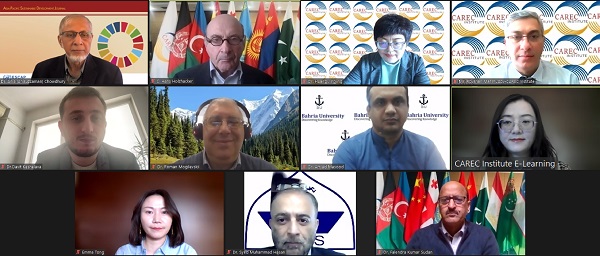 On November 16, the CAREC institute, in partnership with United Nations Economic and Social Commission for Asia and the Pacific (ESCAP), organized a Regional Policy Dialogue "Regional sustainable development cooperation in Central Asian countries." The purpose of the policy dialogue was to present the main findings of the papers of ESCAP's Asia Pacific Sustainable Development Journal (volume 30, Issue No. 2) on the challenges and opportunities for regional cooperation in the CAREC region, and to equip policymakers with the knowledge and tools needed to implement recommended policy actions for achieving sustainable and inclusive development.
The second issue of Volume 30 of the Asia Pacific Sustainable Development Journal is published based on five research papers produced under the CAREC Institute Visiting Fellows Program. The Program provides support to research fellows who spend a considerable period of time researching selected topics that promote regional integration and cooperation, ranging from low-carbon energy development to trade, transport and digital connectivity and others among CAREC countries.
A paper "Comparing regional integration for sustainable development in ASEAN and CAREC economies" by Mr. Falendra Kumar Sudan, stressed that regional trade and investment integration including value chain integration of the CAREC economies with ASEAN requires regulatory cooperation in digital trade, trade information and communication technologies, and e-commerce platforms.
The second paper "Regional cooperation in promoting low-carbon energy development in the CAREC region: challenges and opportunities" by Bulganmurun Tsevegjav, highlighted an overview of the regional cooperation on low-carbon energy development in the CAREC region. Also, mentioned that the CAREC economies have the potential to accelerate regional cooperation in the low carbon energy development, especially in alternative energy sources, for example, hydro, solar, and wind. Lastly, identify challenges (lacking governance arrangement, heavy reliance on fossil fuels, inefficient and aging infrastructure) and opportunities (reduced cost of renewable technology, global investment shifts to low-carbon energy, cost-effectiveness of cooperation in low-carbon energy development) in promoting low-carbon energy development in the region.
The third paper "Assessing participation of Central Asia and South Caucasus countries in global and regional value chains" by Yaroslava Babych et al, reveals that the production processes within the Caucasus are not well integrated. Also, the production processes are not integrated enough into regional and global value chains. For the integration (within, regional and global) of the production processes creating linkages between production structures is vital that requires enhanced regional cooperation.
The fourth paper "Explaining trade policy effects for the Central Asia Regional Economic Cooperation countries" by Amjad and Junaid, suggests facilitating intra-bloc and extra-bloc trade flows in the CAREC region a pan-CAREC trade agreement is required to provide a coherent economic framework through uniform regional policies. In addition, the paper mentioned CAREC exports are mired in a low value-added trap, which restricts intra-industry trade within the region. A well-managed managed value-added chain is required for the proliferation of value-added exports.
And the fifth paper "Mapping economic clusters using satellite imagery to assess the impact of transport corridors in CAREC countries" by Syed M Hasan, posits that regional cooperation plays a critical role in developing transport infrastructure. Also, describes that transforming the transport corridor into an economic corridor requires "linking markets, ideas, and people".
Dr. Roman Mogilevskii, Senior Economist from ADB and Dr. Gulnaz Alibekova, Leading researcher, Institute of Economics, Ministry of Education and Science of Kazakhstan, were invited as panelists to deliver commands for the paper. Two experts commented on each of the five papers and highly praised the authors for their efforts and suggestions for the sustainable development of the region and wish all authors success in further research.
The papers are available through the UNESCAP website.