Muztagata Forum on China-Pakistan Economic Corridor
18 Jun 2023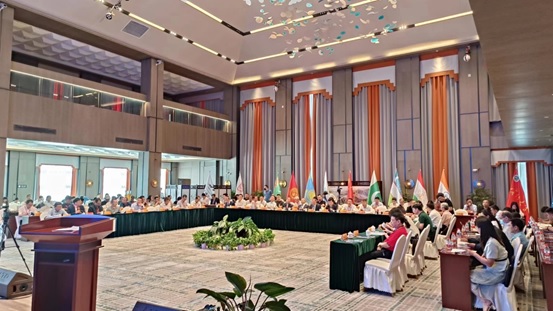 On 18 June, the Second Muztagata Forum — an International Symposium on China-Pakistan Economic Corridor, was held in Kashi, Xinjiang Uygur Autonomous Region of the People's Republic of China. The forum commemorated "the Belt and Road" and the 10th anniversary of the construction of the China-Pakistan Economic Corridor (CPEC). The forum was organized in collaboration with the Research Center of China Pakistan Economic Corridor of the State Ethnic Affairs Commission (Kashi University), CAREC Institute, Shenzhen Pairing Assistance to Xinjiang Front Headquarter and Kashi Economic Development Zone.
Speaking on the occasion, the Director of the CAREC Institute, Mr. Kabir Jurazoda, noted that the six CAREC corridors connect the region's key economic centers and landlocked countries to other Eurasian and global markets. The fifth CAREC corridor, connecting the PRC with South Asia and the Middle East, passes through Pakistan and continues to the Arabian Sea. In addition, several roads provide links to ports on the Arabian Sea along the sixth CAREC corridor. All CAREC corridors represent an axis of growth and a belt of development, providing complementary benefits, cooperation, mutual benefit, and shared prosperity throughout the region and beyond. Although Pakistan is currently facing difficult economic challenges, after a three-year pandemic, all CAREC countries are actively seeking to rebuild their economies, and China's efforts are evident. The development of CAREC economic corridors is the path to economic regionalization in the face of weakening globalization.
Forum's discussions on the topic "Prospects for China-Central Asian Cooperation and CPEC under the Greater Changes" were led by Dr. Huang Jingjing, Deputy Director One of the CAREC Institute. Dr. Ghulam Samad, Senior Fellow at the Institute, made a presentation during this panel session, sharing invaluable knowledge and research on various aspects of CAREC integration and trade. Cooperation discussions centered on issues such as infrastructure development, energy cooperation, trade and investment, digital communications and socio-economic development. Dr. Ghulam Samad noted that the development of the CPEC will promote further regional economic integration in the CAREC region, with the cities of Gwadar in Pakistan and Kashi in the PRC becoming the main trade gateways connecting China, the Middle East and Central Asia. In turn, CAREC connectivity will continue to be critical to building regional cooperation mechanisms such as policy coordination, knowledge and experience sharing, joint development of trade infrastructure, promotion of cross-border trade, integration of regional networks, and more.
The Muztagata Forum is held annually with the aim to facilitate academic collaboration, research, and policy discussions among key stakeholders to promote high-quality development research and strengthen the cooperation between the academic circles of China and Pakistan.