MOU with the Agricultural Development Bank of China
20 Jan 2022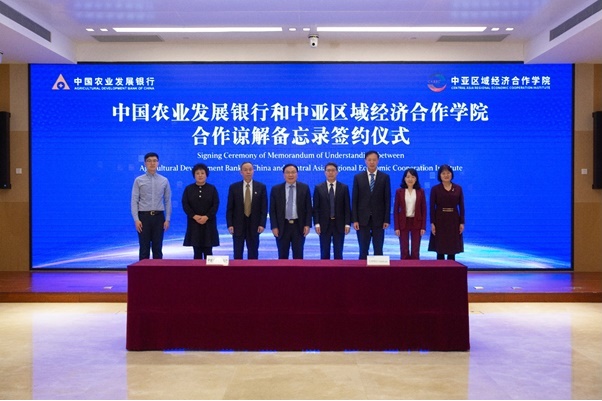 On 20 January 2022, the CAREC Institute and the Agricultural Development Bank of China (ADBC) signed a Memorandum of Understanding (MOU) in Beijing. Zhang Wencai, Vice President of the ADBC, and Syed Shakeel Shah, Director of the Institute witnessed the signing ceremony. The General Manager of the Institute of Rural Finance Development of the ADBC and the Deputy Director One Liang Ziqian of the CAREC Institute signed the MOU on behalf of both parties.
The signing of the MOU marks the extensive cooperation and research between the ADBC and the CAREC Institute in the areas of agricultural regional cooperation and development, sustainable agriculture, rural infrastructure construction, ecological environmental protection, and the whole agricultural industry chain.
On the basis of complementary advantages and win-win cooperation, the two sides will carry out mutually beneficial cooperation in multiple fields such as information exchange, topical research, and business training around key areas of mutual concern, and jointly support and promote the integration of regional economic cooperation in CAREC to facilitate sustainable development of the regional economy and society.