MOU with Pakistan Institute of Development Economics
24 Aug 2020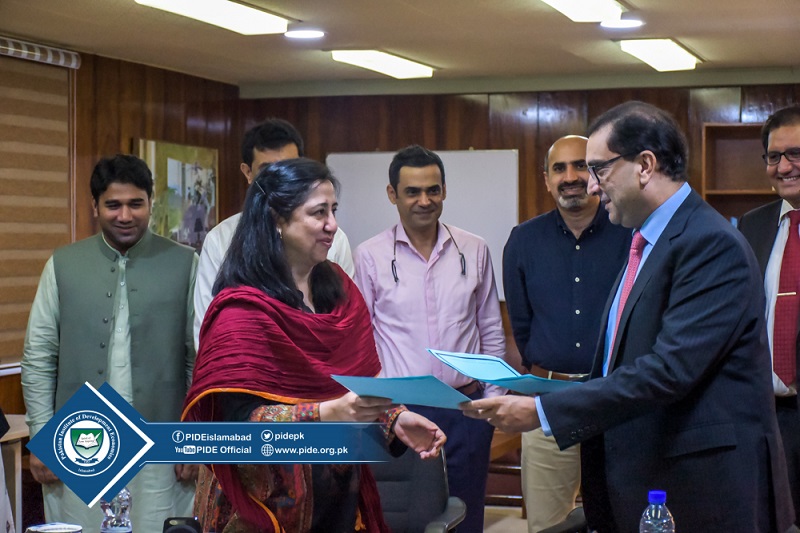 On 24 August 2020, the CAREC Institute, represented by Director Syed Shakeel Shah, and Pakistan Institute of Development Economics (PIDE), represented by Dr. Durre Nayab, Head of Research PIDE, acting on behalf of Dr. Nadeem-ul-Haq, Vice Chancellor PIDE, have signed a memorandum of understanding (MOU) in Islamabad. The parties committed to extend regular exchange and collaboration among universities and research institutions to share and create knowledge in areas of focus, such as trade, connectivity, and regional integration.
PIDE was established in 1957 to conduct research on issues linked to national and international economic development in Pakistan. Its functions include: (a) advising the government of Pakistan, through policy oriented research, on critical economic and developmental issues; (b) conduct theoretical and applied research on policy diffusion and its impact; (c) establish task-oriented research sections to undertake theoretical and applied research. PIDE disseminates its research through the Pakistan Development Review, working paper series, special working paper series, policy viewpoints, newsletters, seminars, and conferences.
Furthermore, PIDE is hosting the China-Pakistan Economic Corridor (CPEC) Centre of Excellence which carries out workshops and conferences with renowned Chinese institutions, such as Chinese Academy of Social Sciences, China Centre for Special Economic Zone Research, Shenzhen University, and Zhejiang University.
The MOU will present the parties with an opportunity to deepen their research in CAREC economic corridors and explore their complementarity with other multilateral and bilateral economic initiatives.