Knowledge-Sharing Webinar on Enhancing Regional Trade Facilitation in the CAREC region through National Single Window
2 Nov 2023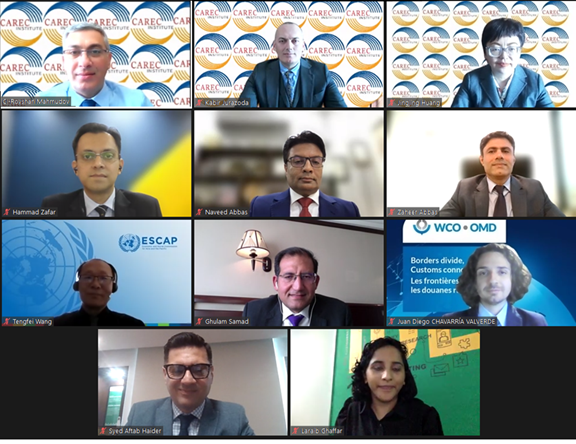 On November 2, the CAREC Institute and the Pakistan Single Window (PSW) jointly hosted a knowledge-sharing webinar "Enhancing Regional Trade Facilitation through National Single Window: Pakistan's Experience." During the webinar, participants learned about best practices and challenges pertaining to regulations, governance models, management techniques, and tools and functionalities of national single window systems.
Mr. Kabir Jurazoda, Director of the CAREC Institute, welcomed the webinar participants, highlighting the significant contributions of the CAREC Program and the CAREC Institute in developing regional trade facilitation, including collaborative efforts to reduce transportation costs and time, minimize tariffs and other administrative barriers, promote value addition, export diversification, and implement single window systems. Mr. Jurazoda noted Pakistan's success with the single window approach, highlighting it as one of best practice within the CAREC region.
Mr. Syed Aftab Haider, CEO of Pakistan Single Window further, "Over the years, Pakistan Customs, and the Pakistan Single Window have greatly benefited from the knowledge and experience-sharing of our partner countries to improve Customs operations and implement various reform initiatives". He further added, "The synchronized and harmonized flow of information has not only increased transparency in regulatory functions but has also enhanced predictability and reliability in compliance with non-tariff measures for the trade, reducing their costs and time of compliance. For the government, it results in better compliance, increased revenues, and enhanced transparency. We are leveraging PSW to develop our linkages with our trading partners including China, Tajikistan, and Uzbekistan through establishing electronic connectivity with their systems for the exchange of trade data."
The webinar consisted of three sessions. During the first session, Dr. Ghulam Samad, Senior Research Specialist at the CAREC Institute, presented recent findings and recommendations from the CAREC Institute's report on trade facilitation in the CAREC region. He emphasized the crucial role of modernization and digitalization in improving trade efficiency across the region. Then, Mr. Tengfei Wang, Economic Affairs Officer at UNESCAP, discussed how countries can improve cross-border trade efficiency through trade facilitation. UNESCAP's empirical analysis provides compelling evidence that trade facilitation agreements (TFA), paperless trade and Framework Agreement can substantially reduce trade cost and bring environmental benefits. Therefore, countries should strengthen partnerships in utilizing TFA, promoting paperless trade, and implementing the Framework Agreement. This can be achieved by identifying and sharing knowledge from pilot projects and comparing the costs and benefits with conducting cross-border paperless trade.
During the second session, participants delved into Pakistan's experience with single window implementation. PSW representatives, Chief Domain Officer Mr. Naveed Abbas Memon, Mr. Zaheer Abbas, and Mr. Hammad Zafar, shared how PSW has helped reduce the time and costs of doing business by digitalizing Pakistan's cross-border trade. PSW initiated a range of business process reforms and data standardization efforts that involved re-engineering 102 processes, replacing 65 documents with electronic verification, substituting 145 documents with electronic submission, and eliminating 45 documents. PSW links various stakeholders, including Pakistan Customs, government agencies involved in cross-border trade and transport regulation, port authorities, commercial banks, traders, freight forwarders, and carriers etc. through a digital portal. This system relies on an Integrated Risk Management System, an electronic payment system, and a seamless flow of information amongst different stakeholders. Moreover, PSW is now looking towards linking with the National Single Widow systems of Azerbaijan, China, Egypt, Russia, Tajikistan, Uzbekistan, and the Global e-Phyto Hub for real time data exchange to further reduce the processing time and associated costs. The launch of PSW in 2022 resulted in Pakistan's ranking in the UN Survey on Digital and Sustainable Trade Facilitation for 2023 rising from 56.9 percent to 70.9 percent, listing Pakistan with highest growth among South Asia countries.
In the final session, Mr. Juan Diego Chavarría, Technical Officer of the World Customs Organization (WCO), informed participants about the implementation guidelines for the WCO data model in harmonizing cross-border cargo clearance documents. He also highlighted the role of the Integrated Risk Management System in identifying and mitigating operational risks.
All materials and recording of the webinar have been uploaded to the CAREC Institute's e-learning platform and are accessible to a broad audience across the CAREC region and beyond.