Innovation Summit: COVID-19, Innovation, and Economic Megatrends
18 Sep 2020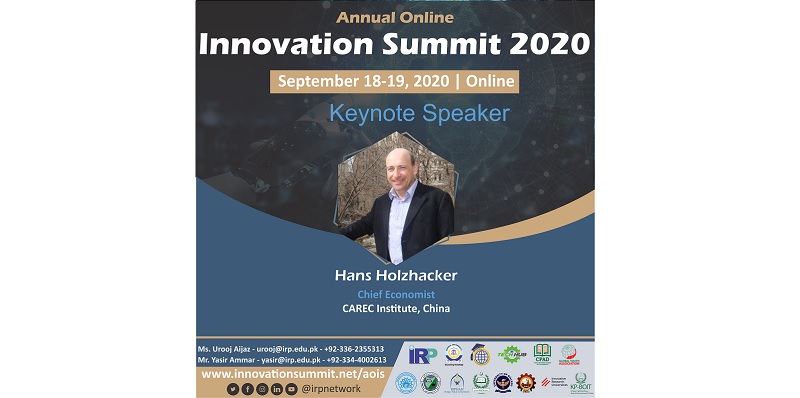 On 18 September 2020, the CAREC Institute Chief Economist Dr. Holzhacker participated in the innovation summit organized by Pakistan Institute of Research Promotion, supported by Pakistan Council of Science and Technology, Pakistan Science Foundation, University of Management and Technology of Pakistan, and other partners.
Dr. Holzhacker delivered a presentation on COVID-19, innovation and economic megatrends. He discussed how digitalization is revolutionizing production and services, reshaping supply chains, and changing how globalization works. He argued that it allows re-bundling, near-shoring, and insourcing for industrial production. By contrast, it facilitates unbundling, offshoring, and outsourcing of services. As a result, trade in cross-border services is growing much faster than trade in goods. The internationalization of tangibles is stagnating, and that of intangibles is growing. Digitalization favors non-equity modes of international governance at the expense of classical foreign direct investment.
He continued that COVID-19 is sharply accelerating global megatrends. The share of first-time users of digital access has substantially risen across all industries during the pandemic; the share of employees working remotely as well. The disruption of supply chains during the pandemic is triggering their redesign. COVID-19 is further muting foreign direct investment over the coming years.
CAREC countries have achieved significant progress in adopting new technologies, but a lot remains to be done. In some countries, the density of mobile phone possession is quite high, but others are lagging behind. Differences in broad-band availability are even higher. CAREC trade (ex PRC) in services has been stagnated since 2012. CO2 emissions are high in some countries. Oil and gas exporters might be adversely affected by global decarbonization efforts. To cope with the evolving new challenges and benefit from new opportunities accelerated by COVID-19, CAREC countries need speeding up digitalization and adoption of other advanced technologies, speeding up greening, and diversifying international value chains. This requires policies and actions in education, reform of national innovation systems, new (digital) infrastructure, incubators and techno parks, attraction of venture capital, legislation and policies appropriate for non-equity modes of international governance, e-government, fintech, new tax legislation/policies capturing digital value added flows, and a whole set of greening policies.