First CAREC Development Partners' Forum - New Collaboration Horizons
2 Dec 2020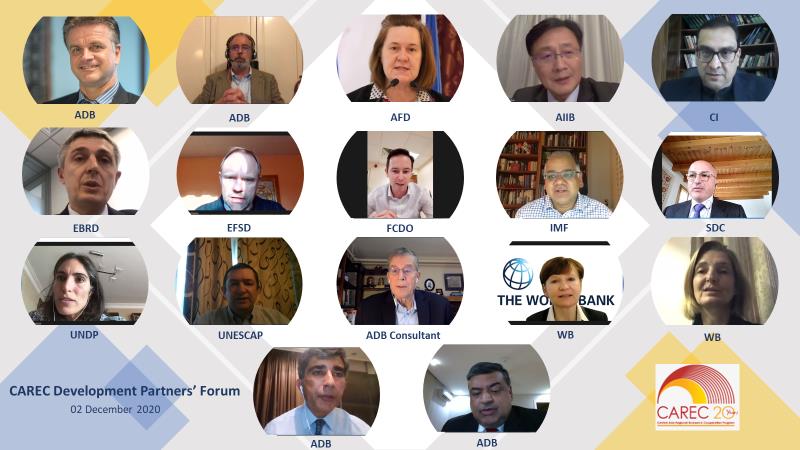 On 2 December 2020, the CAREC Institute, represented by Director Syed Shakeel Shah, participated in the first CAREC Development Partners' Forum organized by the Asian Development Bank (ADB) to discuss engagement of development partners in CAREC and coordination of regional development efforts.
Representatives of the World Bank, IMF, AIIB, EBRD, IMF, SDC, AFD, UNDP and other partner institutions attended the forum. Mr. Werner Liepach, Director General at ADB, opened the event, after which Mr. Johannes Linn, ADB Consultant, presented the overview of development partner engagement in CAREC and highlighted issues and options in building a stronger partnership in the region.
Presenting the background paper, Mr. Linn noted that as of 2019, development partners invested $30 bn of $38.8 bn in CAREC. If until 2017 the projects were financed mainly by ADB, EBRD, IMF, IsDB, UNDP and the World Bank, throughout 2018-2019, 12 out of 40 projects were co-financed by two or more development partners indicating that CAREC 2030 strategy opened up participation for more stakeholders by strengthening their engagement in CAREC.
Furthermore, the forum discussed issues and options for enhancing cooperation among development partners in information and data exchange; potential contributions to CAREC Secretariat's administrative costs; more intensive collaboration through co-chairing sector committees and staff secondment; more geographic presence in CAREC countries; issues of CAREC Program visibility and country ownership; collaboration with the CAREC Institute where AIIB expressed interest in joint research, and IMF representative mentioned readiness to cooperate in capacity building activities. Topics of interest for CAREC Institute cooperation included digital connectivity and climate change, including the issue of water sustainability.
Mr. James Patrick Lynch, Director General at ADB, closed the event providing highlights of development partner investment in CAREC and stated that regional cooperation potentially brings many benefits of greater connectivity in transport, trade, and people exchanges among the participating countries which requires closer work of development partners. The forum materials are available here.