Expert Discussion on Regional Cooperation on Water Resources, Energy and Climate Change
30 Jan 2023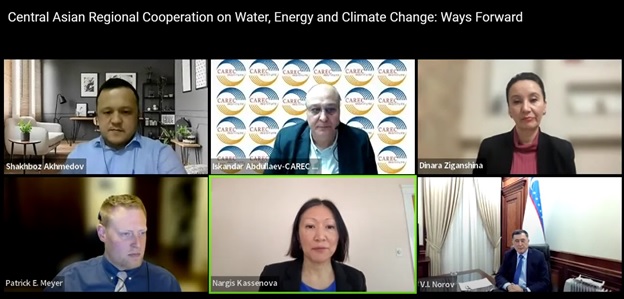 The CAREC Institute and the Davis Center for Russian and Eurasian Studies of Harvard University jointly hosted a webinar about regional cooperation in Central Asia on water, energy and climate change on January 30, 2023. Two representatives of the CAREC Institute — Deputy Director Two Dr. Iskandar Abdullaev and Senior Research Fellow Mr. Shakhboz Akhmedov — contributed to a panel discussion of opportunities and limitations, and ways forward.
Dr. Abdullaev presented about the opportunities and risks of regional cooperation in the field of energy, water and climate change in Central Asia: the energy sector of the region has shown positive economic dynamics over the past few years with an increase in energy demand; water has traditionally been the main concern of the countries of Central Asia, causing long-standing transboundary problems but also having great potential for cooperation; and climate is already becoming a common threat to the socioeconomic stability of the region. The institutions of regional cooperation created during last 30 years have coped with the problems of post-Soviet period, combining various national interests and regional priorities. During this period, the countries of Central Asia become of a part of global processes, which shape the policy and relations between countries in reaching the sustainable development goals. Already in the water sector, more policy attention is being paid to the concepts of sustainable water management.
The energy sector in the region is mixed — some countries rely on fossil fuels, while others use water to generate electricity, creating imbalances in the use of water for agriculture in the region. In addition, the region is one of the most climate-affected regions in the world due to increased natural disasters, multiple temperature fluctuations and changing rainfall patterns. Climate change affects water resources and energy, with harsher summers and harsher winters leading to increased demand for both energy and water. "Therefore, energy sector policies should focus on promoting clean energy and expanding energy trade in the region. Regional cooperation should be aimed at rehabilitating existing and building new intra- and inter-regional energy facilities and infrastructure, and harmonizing standards," said Dr. Abdullaev.
Mr. Shakhboz Akhmedov identified three main aspects requiring the attention of politicians in the region. These include: 1) attracting additional funding using various regulatory frameworks and incentives for private sector participation; 2) accumulating technical expertise and knowledge as countries need to reduce their reliance on expertise outside the region, start investing in national education and developing regional human capital to help reduce technology and knowledge gaps in the region; and 3) strengthening regional cooperation, which helps build the necessary regional and cross-border infrastructure, improves regional trade and prosperity.
Other invited regional experts contributed to various aspects of regional cooperation in the field of water resources, energy and climate change in the Central Asian region. You can watch the video recording of the webinar here.