Director of the CAREC Institute Delivers a Speech at the Hongqiao International Economic Forum
5 Nov 2022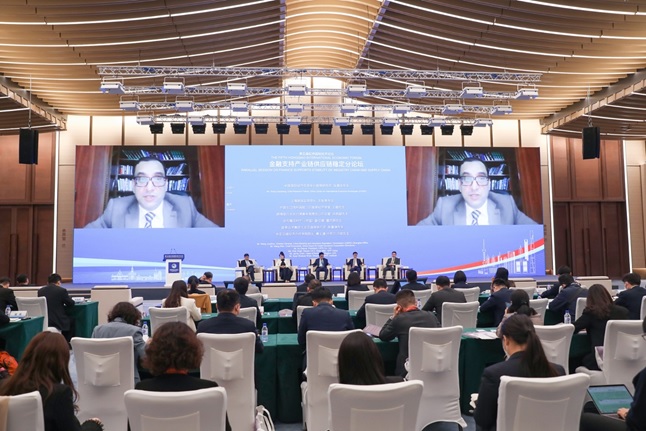 Mr. Syed Shakeel Shah, Director of the CAREC Institute, spoke at a session on "Financial Support for Stabilizing Industrial and Supply Chains" at the Fifth Hongqiao International Economic Forum held as a part of the China International Import Expo. The session is organized by the PRC Ministry of Commerce, the People's Bank of China, the Shanghai Municipal Government, the China International Import Expo Bureau, the National Exhibition and Convention Center (Shanghai), the Bank of China, and the China Economic Information Service.
Hongqiao International Economic Forum is established as a high-end dialogue and exchange platform for international societies, businesses, and academia. The forum brought together heads of state, entrepreneurs, and scholars to discuss the new trends and new changes in economic development reflecting new philosophies derived from inclusive development, which aims at promoting economic globalization that is open, inclusive, comprehensively beneficial, balanced and win-win, building an open world economy, and prompting global trade growth.
This year's forum had a parallel session of the panel discussion on "Financial Support for Stabilizing Industrial and Supply Chains ". In his response to the question, Mr. Syed Shakeel Shah noted that in 2020, governments have initiated emergency support measures to mitigate the worst immediate effects of the pandemic, including direct cash support for households and businesses, lower interest rates, and credit relief for financial institutions, moratoriums on debt repayment of households and firms, and others. These policies helped limit the negative economic impact of the pandemic, and most CAREC countries outgrew the COVID-19 recession in 2021.
However, new challenges such as the Russian-Ukrainian conflict, geopolitical confrontation and climate change have created a new set of uncertainties that threaten the post-pandemic recovery of developing countries. Some net importing countries are facing growing trade deficits, high commodity prices and currency depreciation. As a result of these factors, public debt is increasing in some countries of Central Asia. Global inflation is driven by food inflation. Poor households who spend most of their income on food also suffer disproportionately.
Finance plays a very important role in economic recovery, and countries must ensure sufficient liquidity so that the situation with the balance of payments contributes to maintaining a healthy macroeconomic framework. "We are currently facing unprecedented shocks, with the ongoing crisis and the global commodity crisis highlighting a new need for more sophisticated financial instruments to lift the world out of multiple economic crises; at the same time, global financial institutions need to continue to focus more on climate-focused investment projects and financing of infrastructure," said Mr. Syed Shakeel Shah.
Mr. Syed Shakeel Shah presented policy recommendations to overcome the current difficulties. Central banks need to constantly adjust monetary policy to ensure that the economic recovery is funded and to help mitigate the impact of an unprecedented recession. Financial institutions in developing countries need to support companies to improve governance and compliance and mitigate risk. Governments and financial institutions should further promote financial inclusion and expand the coverage and affordability of financial services. Governments must strengthen debt, deficit, and foreign exchange management, and restructure their debt and implement long-term reforms to improve the transparency of debt management. Countries also need to continue to promote tax policy reforms, strategies to stabilize the financial system, and streamline spending and controls, and restructure their economies to achieve sustainable economic growth.
The banking system is also exposed to foreign exchange volatility risks, so policymakers must carefully monitor these risks and prudently adjust policy if necessary. The role of regulators is very important in providing capital buffers and liquidity to mitigate financial shocks. At the global level, policymakers need to create space for economic recovery and address economic protectionism and economic fragmentation. The International Monetary Fund can allocate unutilized SDRs to help stressed economies in dealing with the balance of payment crisis. Countries should strengthen the South-South learning from development banks in developing countries which serve as new centers of financial gravity and source for sharing expertise and institutional knowledge in dealing with challenges of economic crisis. The governments should cooperate closer at the global and regional levels for a sustainable and transformative recovery.