CAREC Institute attended New Silk Road Forum held in Switzerland
19 Sep 2018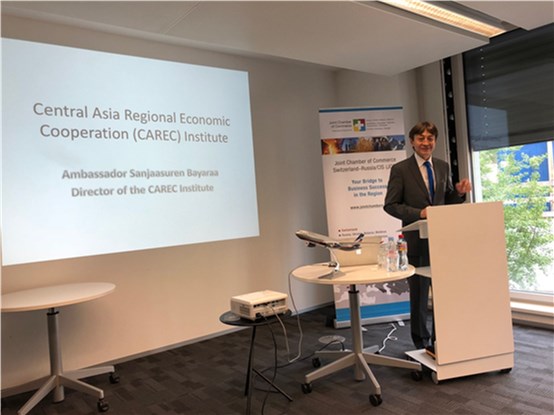 The Forum is held regularly by the Joint Chamber of Commerce Switzerland-CIS/Georgia & Afghanistan (JCC), and this year's meeting was held on September 18 in Zurich.
The topic of the Forum was "China's 'Belt and Road' Initiative: Creating New Infrastructure, Energy and Trade Linkages from China through Russia, Central Asia and the South Caucasus to Europe".
At the Forum CI Director Sanjaasuren Bayaraa introduced the CAREC Institute to the audience consisting of international organizations, diplomats and private sector interested in the Central Asia region. He made a presentation on "Infrastructure, Energy and Trade Linkages in Central Asia & the South Caucasus" followed by a networking event organized jointly by JCC and Swiss-Chinese Chamber of Commerce (SCCC).