CAREC Transport Sector Coordination Meeting
19 Oct 2020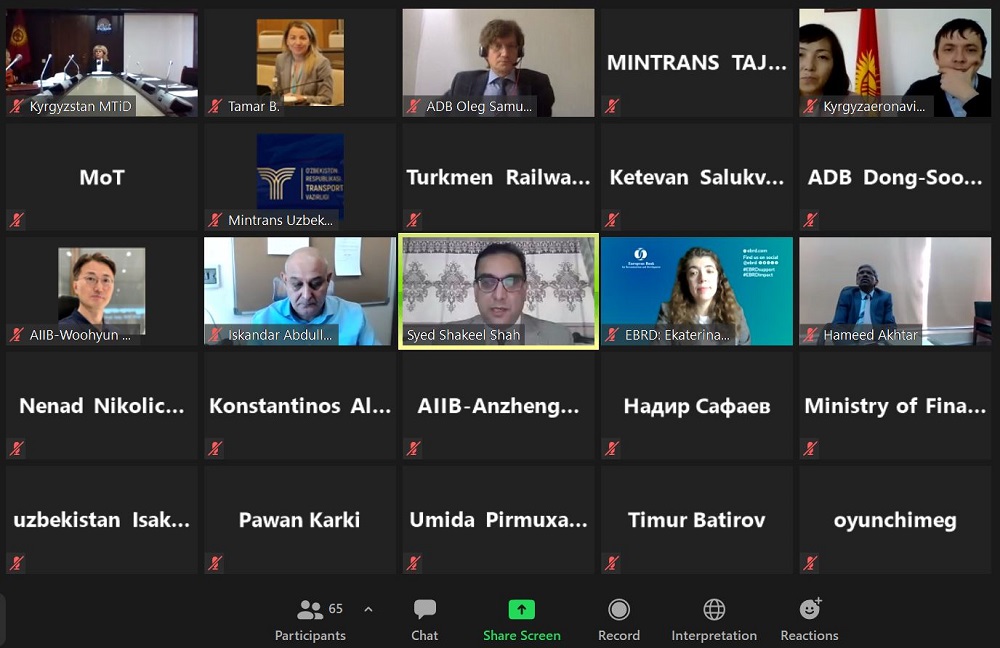 CAREC transport sector senior officials convened online on 19 October 2020 to discuss progress and updates on transport projects, cross-border procedures, also share observations about knowledge products relevant to their sector. The Asian Development Bank (ADB) hosted the meeting and informed the participants that seven knowledge products will be shared in the next two quarters: CAREC railway sector assessments, CAREC traffic model, fourth road safety engineering manual, CAREC ports and logistics scoping study, impact of COVID-19 on CAREC civil aviation, CAREC road safety report card, and CAREC road asset management assessment.
Subsequently, country representatives shared their updates. Afghanistan participant commented on the pedestrian safety manual, emphasized lack of data, and highlighted that the document would help introduce reliable crash reporting system in the country. Georgia's representative highlighted progress in the railway modernization project and their plan to increase cargo processing capacity from 28 million to 40 million tons, noted that a road safety strategy is being prepared for years 2021-25, and that the country places priority on digitalization and cross-border data exchange. Kazakhstan's official talked about country's 11 transit corridors and provided Nurly Zhol program updates. Container shipment volumes were also shared along the PRC-Caucasus-Turkey corridor (180,000 TEU in 2019 with 300,000 TEU estimate in 2020), new Eurasian land bridge (311,000 TEU in 2018 with 800,000 TEU estimate in 2020), and Kazakhstan-Turkmenistan-Iran corridor (210,000 TEU in 2019 with 500,000 TEU estimate in 2020).
The Kyrgyz Republic and Uzbekistan representatives mentioned their priority railway project to connect Uzbek, Kyrgyz and Chinese railways. The Pakistan official also highlighted that the country is looking into the rail corridor development, besides an integrated logistics policy design is underway, and accession to the Convention of Contract for the International Carriage of Goods by Road (CMR) in 2019 is expected to facilitate transport movement significantly.
Later, development partners – AIIB, EBRD, IRU, IsDB, World Bank, UNECE – provided their updates. The International Road Transport Union (IRU) representative mentioned that there is a workshop planned with TRACECA on e-TIR and e-CMR. Georgia and Azerbaijan are well on the way to imbed e-systems, the PRC and Pakistan are also on board, and other CAREC members are expected to join soon. IsDB representative mentioned that there was a lot of potential for the public-private partnership (PPP) engagement in the region.
The CAREC Institute Director Syed Shakeel Shah updated the audience about the Institute's contribution to the CAREC Transport Strategy 2030 implementation. Namely, details were shared about the three workshops: road asset management, elements of road safety engineering, unlocking private investment for sustainable infrastructure in Central Asia; about the Institute's e-learning platform which allows wide access to learning materials; book chapter titled "Infrastructure in Central Asia and Caucasus" written for the ADBI's book on the overview of infrastructure in Central Asia; also research of the CAREC Institute's visiting fellow 2020 on spatial mapping of economic clusters with focus on the PRC, Pakistan, and Tajikistan; eight Corridor Performance Measuring and Monitoring (CPMM) policy briefs developed for CAREC policy maker convenience based on ADB publications: and finally the CAREC Think Tanks Development Forum (CTTDF) which is scheduled for Q1 2021 and will be dedicated to transport and economic corridors.