CAREC Think Tank Network (CTTN) Discussed Regional Strategic Vision for Climate Actions
13 Oct 2023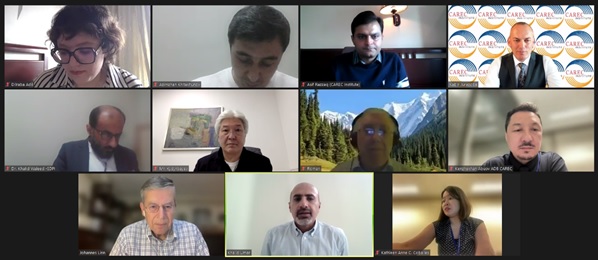 On October 13, the CAREC Institute held a consultation webinar on the draft strategic document "Regional Action on Climate Change: A Vision for CAREC in 2050" as part of CAREC Think Tank Network Talk Series. The webinar aimed at collecting perspectives from leading regional think tanks on the draft document.
In his welcoming speech, Mr. Kabir Jurazoda, Director of the CAREC Institute, noted the importance of coordination of strategic approaches among CAREC countries in addressing climate change. As one of the most vulnerable regions in the world, the CAREC region is experiencing climate change challenges, rising temperatures, increased variability, and extremes in temperature and precipitation, leading to water shortages, increased flooding, and droughts. To support increased attention to climate change, the CAREC Secretariat has developed a strategic document establishing common principles among CAREC countries for climate action and identifying priority areas for investment with recommendations for concrete steps to achieve a more resilient and climate-resilient region. The document will be reviewed and adopted by CAREC ministers during the 22nd CAREC Ministerial Conference in Tbilisi, Georgia, in November 2023.
During the first session, Dr. Johannes Linn, Senior Fellow, Global Economy and Development Program at the Brookings Institution, provided an overview of the draft strategic document CAREC Climate Change Vision – 2050. He noted that, based on the new strategic document, the CAREC Program should explore the opportunities to support its member countries in designing and implementing their national climate strategies and revisit CAREC sectoral and thematic strategic documents to ensure compliance with the goals of the Paris Agreement. Because climate change mitigation and adaptation will require large financial resources, CAREC Program should explore opportunities to develop financing plans and innovative tools for regional climate action programs in close partnership with development partners and private sector investors. To this end, CAREC Program will assist member countries in developing their climate finance plans and instruments, improving regional coordination and cooperation, strengthening the capacity of member countries to attract climate finance, and providing access to global climate funds, and more. To implement these initiatives and monitor their progress, CAREC countries need to establish the CAREC Climate Change Steering Group, which could be advised by a Cross-sectoral Working Group on Climate Change and/or a Climate Expert Group. The CAREC Secretariat and the CAREC Institute will implement necessary analytical and capacity-building activities to help member countries better understand climate and disaster risks and support risk-sensitive policies and investments.
During the second session of the webinar, representatives of the CAREC Think Tank Network – Mr. Vugar Abbasov, Junior Research Fellow of the Economic Scientific Research Institute (Azerbaijan), Ms. Zhang Minwen, Deputy Director General of the International Economics and Finance Institute (China), Mr. Azimzhan Khitakhunov, Senior Research Fellow at the Eurasian Research Institute (Kazakhstan), Mr. Tuvshintugs Batdelger, Director of the Economic Research Institute (Mongolia), Mr. Khalid Waleed, Research Fellow at the Sustainable Development Policy Institute (Pakistan) and Mr. Bunyod Tillakhujaev, Chief Specialist at the Development Strategy Center (Uzbekistan) discussed the strategic document and shared their countries' perspectives on regional climate action.