CAREC Institute Staff Speaks at the 7th Global Cross-border E-commerce Conference in Zhengzhou
10 May 2023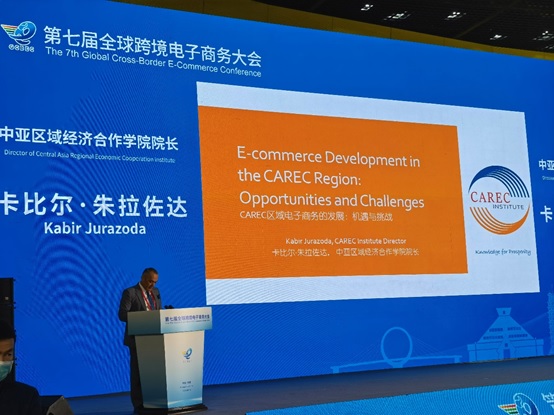 On May 10, a delegation from the CAREC Institute, consisting of Mr. Kabir Jurazoda, Director, Dr. Ilhom Abdulloev, Senior Knowledge and Research Connectivity Specialist, and Mr. Huang He, E-Learning Specialist, attended the 7th Global Cross-border E-commerce Conference in Zhengzhou, Henan Province, the PRC. The conference aimed to build consensus, enhance cooperation, and map out the future of the global cross-border e-commerce industry. The event, which included six parallel forums, was jointly organized by the Department of Commerce of Henan Province, Zhengzhou Municipal Government, China Association of Trade in Services (CATIS), and several research institutes.
Director Kabir Jurazoda delivered opening remarks at the Cross-border E-commerce Innovation and Development Forum. Mr. Jurazoda provided background information about the CAREC Institute and its main activities. His presentation highlighted the challenges of developing cross-border e-commerce in Central Asian countries, such as the high proportion of Internet users who do not shop online, poor performance in postal and logistics services, and weak e-commerce legislation. He suggested enhancing skills training in the CAREC region and stressed the importance of sharing Chinese experience. As an example, he cited the training program "Sharing Chinese Best Practice in Cross-border E-commerce", which was jointly organized by the CAREC Institute, the China Association for Trade in Services, and ADB – PRC Regional Knowledge Sharing Initiative in 2022.
Dr. Ilhom Abdulloev spoke at the Cross-border E-commerce Industry and Education Integration Forum on the need to share e-commerce knowledge not only between universities and TVET schools in the CAREC region, but also to inform national policy makers about best policy and legislative practices. Dr. Abdulloev shared information about the CAREC Institute's e-commerce research reports which were produced in partnership with various international think tanks and financial institutions. He also provided information on 10 different capacity building activities related to e-commerce which the CAREC Institute implemented in partnership with different institutions over the past two years. Dr. Ilhom Abdulloev invited PRC e-commerce enterprises, universities, research institutes, and technical and vocational schools to cooperate with the CAREC Institute and educational institutions in Central Asia. Collaboration can include not only assistance in curriculum development and trainings, but also organizing exchange programs, international summer camps, hackathons, and international internship programs for students from the CAREC region.