CAREC Institute Shares Knowledge on Digitalization of the Water Sector in Central Asia
9 Dec 2022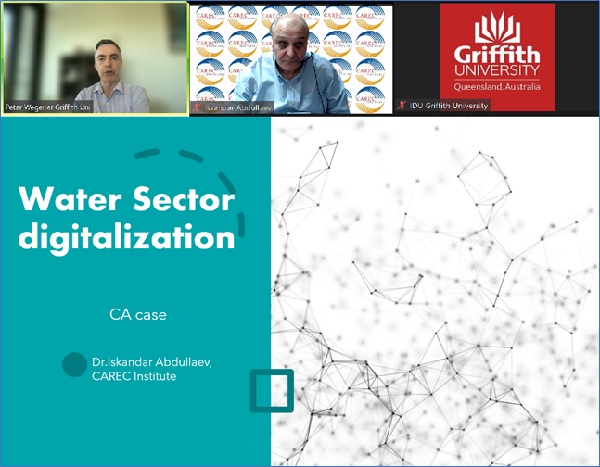 CAREC Institute's Deputy Director Two Dr. Iskandar Abdullaev participated in the Asia-Australia Short Course 2022: Digital Technologies for a Climate Resilient Water Sector to exchange views on the digitalization process in the water sector of the Central Asian region.
The online course was organized by the Government of Australia through the Australian Water Partnership, the Asian Development Bank, Griffith University and the International Water Centre from 31 October to 9 December 2022. The course brought together practitioners, policy makers, decision makers, utility directors and employees of water associations involved in ADB-funded water management projects in developing member countries, and relevant ADB staff. Participants learned about the use of digital technologies to improve water management and inclusive participation in decision-making, which in turn contributes to water security and climate resilience.
The effects of climate change are causing significant social and economic issues. At the same time, the digital technologies are playing a critical role in building resilience to climate change and natural disasters, enhancing environmental sustainability through tools such as water monitoring systems, smart remote metering, adaptation solutions and other.
In his presentation, Dr. Iskandar Abdullaev highlighted the key issues of the water sector in Central Asia, including water scarcity and uneven distribution among the countries of the region that negatively affects livelihoods and crop cultivation, increasing poverty and social differentiation. All this ultimately negatively affects the ability of households to adapt to climate change. The solutions to these problems at the regional level are a long- and short-term planning for all basins and large water systems, and bilateral and regional agreements on transboundary water systems, and rivers with water distribution/sharing mechanisms. At the national level, countries should promote water rights and market-based instruments in the water sector with enhanced public awareness, education and stakeholder participation. At the level of local institutions, automation and digitalization of planning, management of water resources within the basins should be introduced, while the administrative intervention in the planning and distribution of water resources should be reduced. The automation process should include a SCADA system for transboundary and main water systems, automation of gauging stations for accounting and data collection, and automated water distribution tools such as smart sticks and smart water devices.
As the CAREC countries are already experiencing a digital divide in digital infrastructure, socio-economic and regulatory factors, Dr. Abdullaev called for a conceptual approach instead of disparate digitalization projects by developing the Water Sector Digitalization Concept which will link water reforms with the digitalization of the economy. Stakeholders should work together to build the capacity of water sector workers by providing them with digital skills to create and implement digital systems in the sector, and control scams, hacking and digital fraud. The Central Asian countries should promote an enabling environment for the private sector's participation through an effective legal system and protection of property rights, coherent policies, and inclusive digital regulations. "Budgetary allocations should be directed to create the digital infrastructure and access in underdeveloped (rural) and digitally backward areas and industries," stated Dr. Abdullaev.