CAREC Institute Proposes Opportunities for Cooperation in Skills Development in the CAREC Region
1 Jun 2022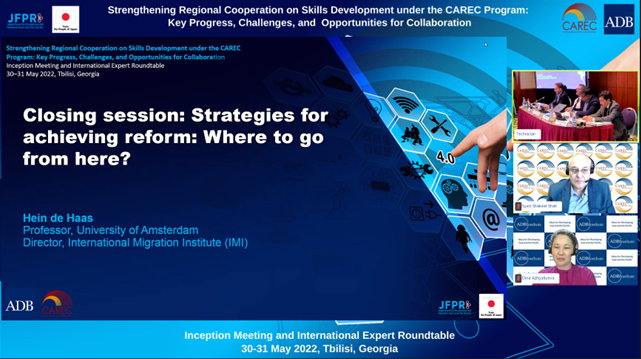 The CAREC Institute participated in the International Expert Roundtable Discussions on "Strengthening Regional Cooperation on Skills Development under the CAREC Program: Key Achievements, Challenges, and Opportunities for Cooperation" hosted by the Asian Development Bank on 30–31 May 2022 in Tbilisi, Georgia. In this meeting, Deputy Director 2 represented the CAREC Institute on behalf of Director Syed Shakeel Shah.
In a session on priority activities and proposed projects, Dr. Abdullaev spoke about the existing and potential projects on skills development in the CAREC region. The CAREC Institute intends to promote the Educational Dialogue meetings among CAREC member countries. A series of dialogues will help explore existing challenges in education development and discuss best practices in policy development. By facilitating regional cooperation in education and skills development, the CAREC Institute can help develop connectivity between educational institutions, support collaborative programs, and teacher and student exchanges, develop bilateral and regional qualifications, and establish branch schools in the CAREC region. Collaboration between universities and vocational schools, facilitated by the CAREC Institute, may eventually lead to CAREC-wide networks of universities and TVET providers for regional adaptation of world best practices. The CAREC Institute can promote research and training in specific areas of education.
Dr. Abdullaev stressed that the CAREC Institute is already contributing to strengthening standardization and harmonization in higher education and TVET. The CAREC Institute is working on developing a practical road safety curriculum for technical universities. In addition, the CAREC Institute is developing a flagship leadership program for CAREC countries that can be expanded to target CAREC leaders in the education sector. The CAREC Institute launched a knowledge-sharing initiative among TVET schools, starting with China's cross-border exchange of experience with other CAREC countries. The next step could be to share Japan's best practices in TVET development with CAREC member countries. The existing visiting scholarship program could also include leading TVET institutions, think tanks, and universities.
Additional proposals for the CAREC Program were made on the management and regulation of recruitment systems and developing a labor market database and information system. The CAREC Institute can contribute to a comprehensive assessment of the governance and regulation of recruitment systems and case studies in relevant areas of public-private partnerships. Potential research could explore how such regional processes are harmonized and streamlined in regional blocs such as the European Union and ASEAN and suggest possible policy steps for the CAREC region. The Institute could lead the analytical work to develop a human development index for the CAREC region with the necessary database. The potential CAREC Human Development Index will lay the foundation for common and holistic human development in the region and bring positive competition and cooperation among member countries in critical skill areas.