CAREC Institute presents key findings of civil aviation sector development in selected CAREC member countries at the Galaxy Discussion Workshop
20 Sep 2022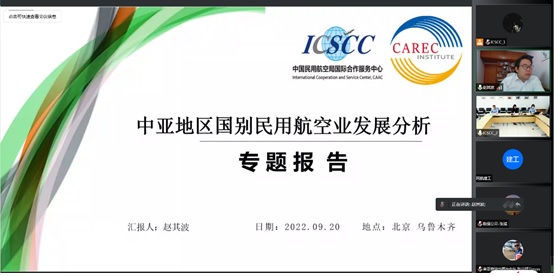 On 20 September, upon the invitation, Dr. Bob Zhao, the research specialist of CAREC Institute, made a presentation as a guest speaker on key findings of an analytical study report on civil aviation sector development in selected CAREC member countries, which was a two-phase research project assigned by the PRC's Civil Aviation authority from 2021.
Dr. Bob introduced the development and trends of the civil aviation industry in selected CAREC countries, including Georgia, Uzbekistan, the Kyrgyz Republic, Turkmenistan, Mongolia, and Kazakhstan. He noted that air connectivity is a vital transport option because much of the CAREC region is landlocked and facing physically restrictive geographies. The regional think tanks and research institutions can work with the civil aviation authorities to conduct research studies and provide policies to promote regulatory convergence and regional harmonization of common standards between CAREC countries. The research could focus on improving airport operations, aviation facilities and equipment, and other facilitation services. In this way, CAREC countries could play more significant roles in perishable and high-value goods trade, being a preferred option for time-constrained business travel and tourism, and connecting Asia with Europe as an aviation hub.
The Galaxy Discussion Workshop was organized by the International Cooperation Service Centre of the Civil Aviation Administration of China (ICSCC) online. More than 120 representatives from Chinese Civil Aviation Universities, flag airlines, hub airports, civil aircraft manufacturers, and the PRC upstream and downstream enterprises in the civil aviation industry attended the workshop.