CAREC Institute Presents Its Research Findings at the StrategEast State and IT Eurasian Forum
24 Oct 2022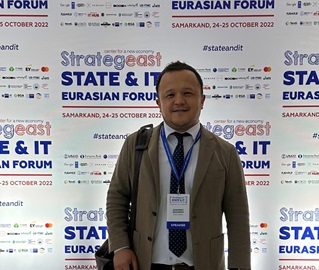 As part of the ICT Week Uzbekistan, on October 24-25, the Strategeast State and IT Eurasian Forum was held in Samarkand city. The StrategEast State and IT Eurasian Forum serves as a unique platform for dialogue between governments and leaders of the IT industry and is held annually in one of the Eurasian cities. On the topic "Diversity through Inclusivity" the forum in Samarkand brought together representatives of global and local tech companies, governments, international financial institutions, and development agencies.
Mr. Shakhboz Akhmedov, Senior Research Fellow of the CAREC Institute, presented the main findings of institute's research on CAREC Digital Gap Analysis at a panel discussion on E-governance in Eurasia. He highlighted the critical role of e-governance in building accessible, human-centered and trustworthy public services. Tested during and emerging from the pandemic crisis, governments now have massive opportunities to focus on and enhance digitization processes in their countries to provide inclusive, equitable and sustainable services, driven by the needs of citizens, businesses and societies in general.
The event provided an opportunity to discuss ways to develop an innovative economy in the region and assist the Eurasian countries in their integration into the global economy.