CAREC Institute Participates in the Sixth Silk Road (Dunhuang) International Cultural Expo
6 Sep 2023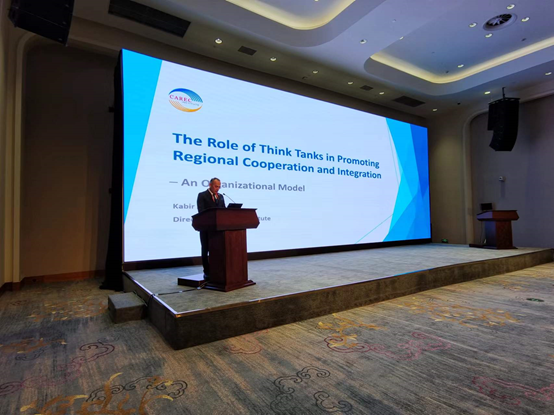 The CAREC Institute delegation, led by Mr. Kabir Jurazoda, Director of the Institute, attended the Sixth Silk Road (Dunhuang) International Cultural Expo from September 6 to 7, in Dunhuang, Gansu province (the PRC). This year's Expo, on the theme "Connecting with the World: Cultural Exchanges and Mutual Learning," aimed at facilitating cultural exchanges and cooperation among countries along the Silk Road, fostering closer people-to-people ties, and promoting economic and social development. Over 1200 participants, including government officials, scholars, private sector representatives, and media, from more than 50 countries and international organizations took part in the Expo, where Turkmenistan was invited as the Country of Honor.
On September 7, during the parallel forum on "China-Central Asia and ASEAN Development Cooperation", Mr. Kabir Jurazoda spoke about the role of think tanks in promoting regional cooperation and integration. During his presentation, he mentioned that the Central Asian region has a strong basis for a mix of different ethnicities and religions living together, cultural integration, and having a variety of viewpoints. Central Asian countries have comparable systems, are economically diverse, and spread over a wide geographical area. He pointed out that the CAREC Institute's research shows that CAREC countries need to continue to work closely to narrow the national income gap with advanced economies and integrate their economies more deeply into global and regional value chains while making them more self-sufficient and more resilient to external shocks. He also highlighted that the CAREC region requires countries' close collaboration against stubborn inflation, rising interest rates, heightened uncertainties, and the ever-worsening impact of climate change.
During the event, the CAREC Institute delegation met with Mr. Ahmed Eiweida, the World Bank Global Coordinator for Cultural Heritage & Sustainable Tourism, to explore areas for cooperation on regional tourism development.
The Silk Road International Cultural Expo is an important event that includes cultural exhibits, performances, investment promotions, and cultural tours. This expo has taken place six times since 2016 in Dunhuang, a significant center on the Ancient Silk Road in the northwest of the People's Republic of China.