CAREC Institute Participates in the High-level Forum on "Belt and Road" Development
9 Sep 2023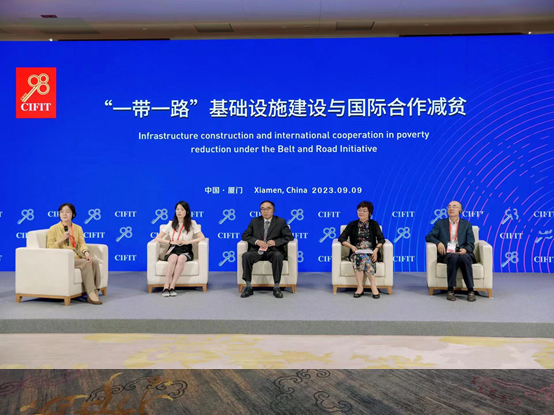 On September 9, Dr. Huang Jingjing, Deputy Director One of the CAREC Institute, participated in the High-level Forum on "Belt and Road Development" in Xiamen, the People's Republic of China. She presented CAREC perspectives on knowledge cooperation and poverty reduction during the roundtable session on infrastructure construction and international cooperation in poverty reduction under the Belt and Road Initiative.
Dr. Huang Jingjing noted that CAREC countries, like many other nations in the world, have made great progress in poverty reduction and welfare improvement in the past few decades, but poverty has remained a severe curse. She pointed out that the 2030 Agenda for Sustainable Development promised 'to leave no one behind and to reach those furthest behind first,' however reducing poverty is a difficult task which requires a complex set of policies for sustainable, inclusive and equitable economic growth, supported by greater employment and decent work for all, social integration, declining inequality, rising productivity, and a favorable business environment. She suggested that countries worldwide could establish a platform for sharing knowledge, expertise, best practices and the latest technological innovations on poverty reduction to jointly build a better world.
As one of the activities of the 23rd China International Fair for Investment and Trade, this forum was co-organized by the China Association for International Economic Cooperation and the Xiamen National Accounting Institute. Over 60 participants including government officials, scholars, and private sector representatives participated in the event.