CAREC Institute Participates in the Forum on the Rule of Law
30 Oct 2023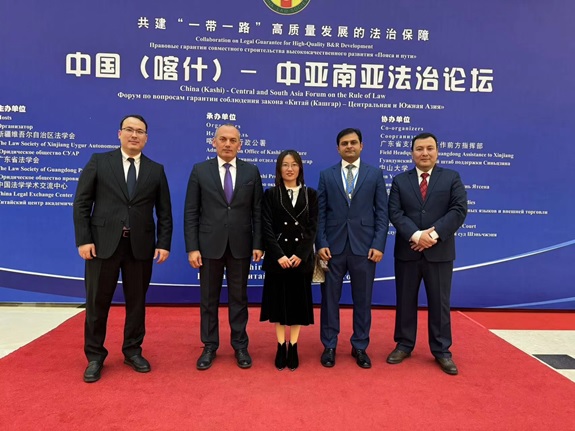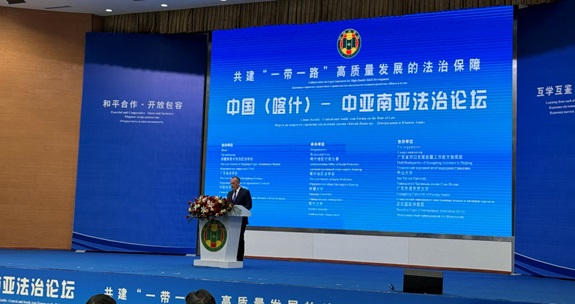 On October 30, a team of senior specialists of the CAREC Institute led by Director Mr. Kabir Jurazoda participated in the China (Kashi) – Central and South Asia Forum on the Rule of Law in Kashgar, the PRC. The Forum, hosted by the Law Society of Xinjiang Uygur Autonomous Region, the Law Society of Guangdong Province, and China Legal Exchange Center, brought together professional and academic lawyers to discuss various aspects of the international cooperation to strengthen the legal research and legal exchange between Central and South Asian countries and to help build the rule of law in the core areas of the Belt and Road Initiative (BRI).
Mr. Kabir Jurazoda delivered a keynote speech on knowledge collaboration to improve the business environment for small and medium-sized enterprises (SMEs) in the CAREC region. SMEs are the backbone of economic activity and are critical to supporting inclusive economic growth and development. However, SMEs in Central Asia, where market institutions are still weak, face challenges, growing at different rates and across different sectors, and facing difficulties in accessing finance.
SMEs can benefit from participating in regional trade, such as improved technical capabilities, increased economies of scale and production efficiency. Cooperation with foreign enterprises can create prestige and credibility, making it easier for enterprises to access finance, as well as attract foreign investors and human resources. At the macro level, CAREC countries will see greater contributions from the SME sector to long-term economic growth and development, job creation and employment growth, export expansion and production diversification, poverty reduction and food security, making the economy more resilient to economic shocks.
Thus, the CAREC Program and the CAREC Institute encourage Central Asian countries to continue to integrate SMEs into global and regional value chains by providing SMEs with greater support in accessing resources, developing skills, improving access to markets and finance, and providing necessary regulatory support. All this, of course, requires the Central Asian countries to further strengthen their regional economic cooperation to implement trade facilitation measures and improve the domestic and regional business environment. "As a regional knowledge hub, the CAREC Institute will contribute to this endeavor through collaborative research, policy dialogues, knowledge-sharing webinars, targeted capacity-building activities, and networking events," said Mr. Kabir Jurazoda.