CAREC Institute Joins the Energy Talks on Green Energy Potential of CAREC Region
26 May 2022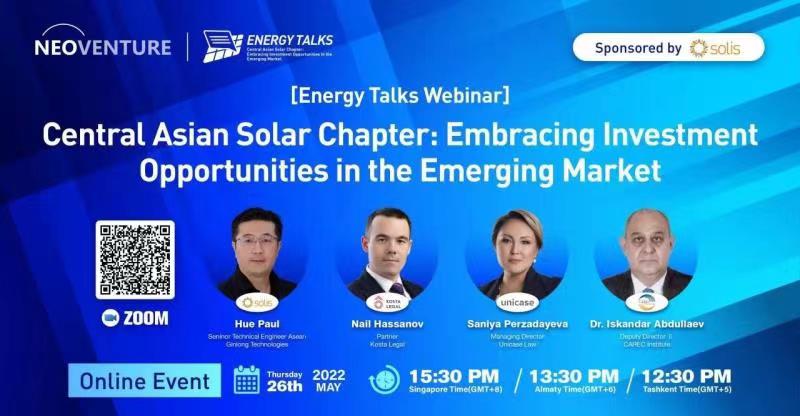 On May 26, Dr. Iskandar Abdullaev, Deputy Director 2 of the CAREC Institute, took part in the Energy Talks webinar "Central Asian Solar Chapter: Embracing Investment Opportunities in the Emerging Market." The Energy Talks webinar is an online platform for insights sharing and business connecting on renewable energy development. The webinar aimed to share up-to-date information on government regulation and solar market development plans, explore business opportunities in the solar market, and understand market mechanisms for solar energy in Central Asia.
Dr. Abdullaev spoke about the current energy situation and space for green energy development in the CAREC region. He noted that the national governments of the CAREC region recognize the importance of renewable energy and their economies' carbon intensity and are thus prepared to improve energy security by diversifying their energy mix and increasing investments in renewable energy. The Central Asia region has good green energy potential with adequate renewable energy sources and governments' commitments to reduce greenhouse gas emissions. While renewable energy deployment has become part of the energy sector transition in these countries, it has been slow due to abundant fossil fuel availability, countries' dependence on low marginal cost hydropower, and insufficient infrastructure investment for new projects. CAREC economies already face energy shortages, outdated infrastructure, and increasingly inefficient and unreliable energy generation facilities. Therefore, adding new capacities from enormous potential for all kinds of renewable energy sources will improve reliability and cover countries' energy demand in the future.
Dr. Abdullaev concluded that the CAREC region needs closer regional cooperation on energy issues. The regional collaboration should direct to technical, financial, and other forms of coordinated activity to rehabilitate existing and construct new intra- and interregional energy-generating facilities and infrastructure. Regional cooperation also should help harmonize renewable energy policy standards and share best practices in policy development and implementation.