CAREC Institute Holds the First Climate Change Dialogue
19 Jul 2022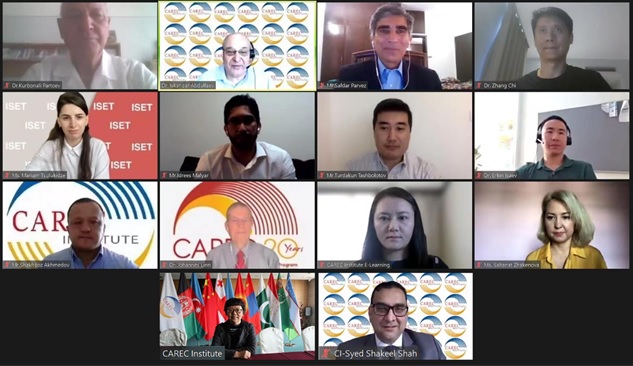 The CAREC Institute, in partnership with ADB, hosted its 1st Climate Change Dialogue on 19 July 2022. The dialogue was aimed at sharing knowledge with national experts from the CAREC region on the CAREC Climate Scoping Study, as well as obtaining feedback and recommendations on the scope of the study, its focus and approaches in line with CAREC national priorities.
During the first session of the dialogue, ADB consultant team led by Dr. Johannes Linn, presented the scope of the study commissioned by ADB. The purpose of the Scoping Study is to develop a cross-cutting, systematic and strategic approach by the CAREC Program to the climate agenda in the region. The study will inform CAREC member countries, the Secretariat, and development partners about climate change issues, as well as national and regional policies and instruments related to climate change, explore the role and mechanisms of regional cooperation on climate issues in the region, and identify potential entry points for the CAREC Program and the CAREC Institute in addressing climate change challenges. The research approach and methodology will focus on reviewing documentary evidence, interviews with experts from development partner organizations and CAREC countries, and inputs from CAREC relevant officials. Analytical tools will be applied to help identify vulnerabilities, gaps and priorities for climate policy interventions.
In the second section, invited experts from all CAREC countries looked at the state of play and way forward in CAREC's climate change agenda. They discussed major climate issues and policy challenges in both mitigation and adaptation faced by the countries and highlighted pressing climate change issues to be addressed by the CAREC Program and the CAREC Institute.
Concluding the dialogue, Mr. Syed Shakeel Shah, Director of the CAREC Institute, emphasized the importance of the CAREC program's renewed focus on climate change and the possibility of developing a climate strategy that provides more room for action by national governments of the CAREC region. He stressed the critical role of regional cooperation, as most climate change issues transcend national borders, and there is a delicate balance in prioritizing mitigation and adaptation actions.
The CAREC Institute, as part of its research portfolio, has been implementing a project on climate vulnerabilities since 2019. Phase 2 of the project has now been completed, highlighting the exposure of CAREC economies to climate impact, helping to understand climate adaptation and mitigation opportunities and potential for regional cooperation. The institute's research team is currently preparing the next phase of the project, which will explore more about climate finance, climate technologies and climate policies. The CAREC Institute's capacity building and knowledge management divisions are successfully promoting knowledge sharing and climate-related policy dialogues.
The dialogue was an opportunity for the CAREC Program and CAREC Institute to sketch first outlines of potential efforts can be undertaken to drive climate agenda in the region. The next CAREC Institute Climate Dialogue is scheduled for August 2, 2022, and focuses on the works of regional structures active in the CAREC region.