CAREC Institute Emphasizes the Importance of Regional Cooperation on Climate Change
12 Apr 2023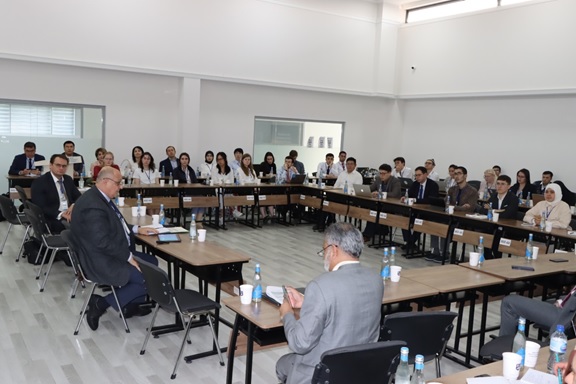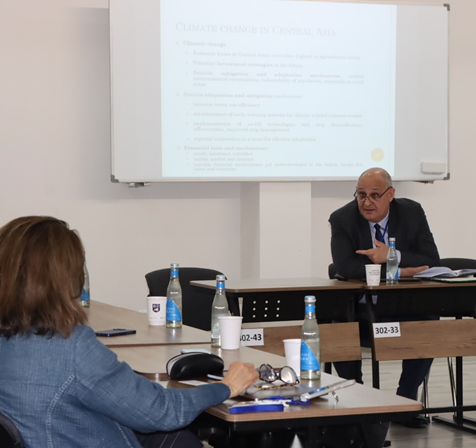 On April 12, Deputy Director Two of the CAREC Institute, Dr. Iskandar Abdullaev, participated in the international workshop "Research in Action 2023", which was organized by the British Management University in Tashkent, Uzbekistan. The workshop participants discussed the ongoing global transformation processes and their impact on Central Asian countries. The event is part of "Research in Action" workshop series which were previously held in Cambridge, London, Bukhara, Astana, Almaty, and Baku.
Dr. Iskandar Abdullaev spoke about climate change and the development of the energy sector in Central Asia. He noted that the countries of Central Asia are experiencing much higher rates of temperature rise compared to the world average over the past hundred years and an increase in the frequency of adverse natural disasters. Climatic change in the region will cause significant changes in annual volume and seasonal patterns of rivers run-off. As a result, climate change leads to economic losses in the agriculture of Central Asia. Therefore, countries in the region need to prioritize their national investment strategies and use suitable mitigation and adaptation mechanisms to reduce impact of environmental externalities and vulnerability of population, especially in rural areas. Suitable adaptation and mitigation mechanisms should include policies aimed at improving water use efficiency, establishing early warning systems for climate-related extreme events, introducing no-till technologies and crop diversification, afforestation, and improved crop management. More importantly, countries in the region should deepen regional cooperation for effective adaptation and energy transition.
He noted that there is a potential for the development of green energy in the Central Asian region as green energy resources are available throughout the region, while countries have already committed to reducing greenhouse gas emissions. The countries of Central Asia can follow the strategies aimed at enhancing the marketization of energy and improving energy efficiency. The marketization-oriented approach is more suitable for economies with a relatively developed energy sector and with the necessary market institutions in place. The energy sector can continue to meet the urgent needs of economic development through the improvement of small hydropower plants, the expansion of the use of solar, wind and other renewable energy sources. However, national governments still need external support and expertise to overcome major institutional and structural weaknesses in their economies. Regional cooperation should target technical, financial, and other forms of coordinated activities directed toward rehabilitation of existing and construction of new intra- and interregional energy-generating facilities and infrastructure. "Regional cooperation can also help harmonize renewable energy policy standards and share best practices in policy development and implementation," said Dr. Iskandar Abdullaev.