CAREC Institute eLearning platform featured in ADBI's new book
9 Mar 2023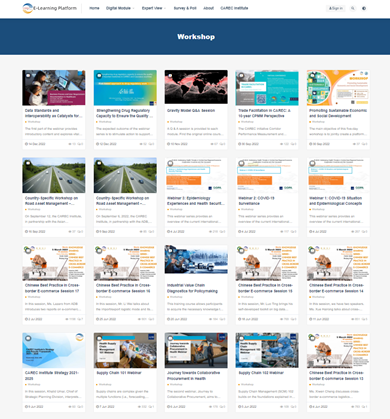 Chapter 10 of ADBI's recent book "A World in Crisis, a World in Progress: Growing Better Together" examines the CAREC Institute's innovative knowledge-sharing services during the COVID-19 pandemic. The chapter is written by Dr. Eisa Khan Ayoob Ayoobi, Chief of the Capacity Building Division, and Mr. Gary Huang, E-Learning Specialist of the CAREC Institute.
During the pandemic, the CAREC Institute transformed its capacity building approach from fully physical to virtual. With financial support from Asian Development Bank, the CAREC Institute has developed an eLearning platform which is distinct from those used by traditional educational institutions. The platform supports the CAREC Institute's mandate to offer thematic or programmatic knowledge support to senior CAREC government officials whose work has had a direct impact on regional economic cooperation and integration in the CAREC region. The target audience of the CAREC Institute has different work schedules, career goals and tendencies to acquire new knowledge and skills. The CAREC Institute e-learning platform designed for such target audience with unique characteristics and functionalities. It is also apt for multi-purpose use.
The CAREC Institute's platform has large cloud space for hosting hours of video recordings, PowerPoint presentations, other digital learning modules and materials. It contains tabs for capacity building workshops, research forums and conferences, and interviews so that users can categorize all learning materials conveniently. After studying all online materials, virtual participants can apply for electronic certification. The CAREC Institute continues to develop new interactive modules and constantly supplements the content of the platform with new materials. Through the platform, the CAREC Institute reaches thousands of participants through its live streamed and thematic workshops. This virtual site is accessible to all users from anywhere at any time.
The eLearning platform has enabled the CAREC Institute to transform its approach to knowledge services from traditional face-to-face learning to hybrid learning programs consisting of virtual and face-to-face sessions. We are always glad to see you among the participants of the eLearning platform to gain new skills and further improve your own professional capabilities.