CAREC Institute Delivers an Open Lecture on Environmental Problems
3 Mar 2023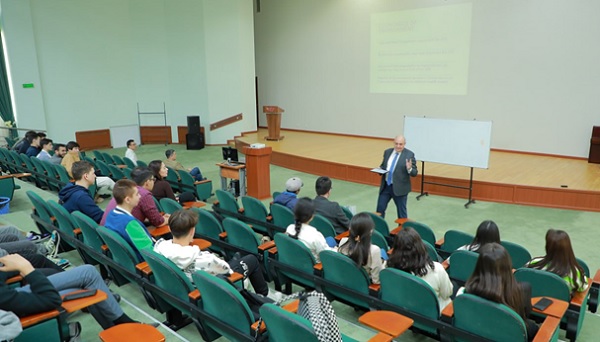 On March 3, 2023, Deputy Director Two of the CAREC Institute, Dr. Iskandar Abdullaev, visited the Management Development Institute of Singapore in Tashkent (MDIS-Tashkent) to provide an open lecture on the topic "Environmental Problems: scope and solutions." The Management Development Institute of Singapore in Tashkent was established in 2007 by the Uzbekistan Banking Association (UBA) and the Management Development Institute of Singapore (MDIS). Its permanent partners in educational programs — the Bangor University (UK) and the University of Sunderland (UK) are known as the leading British universities placed in the Top 1000 World University Rankings. In 2020, the MDIS-Tashkent signed a partnership agreement with a new UK partner — Teesside University.
During his lecture, Dr. Abdullaev spoke about the main environmental issues experienced by Central Asian countries. These countries face water challenges such as declining quality and quantity of water, increased competition for water resources, degradation of the water environment, and an increase in the frequency of water-related natural disasters due to climate change. Countries also experience high levels of land degradation associated with over-irrigation, salinization, agricultural and industrial activities. As household consumption grows, so does the amount of waste, in particular the amount of potentially hazardous waste in the residential, medical, and transport sectors. The Central Asian region is highly vulnerable to climate change, which brings serious challenges due to higher and longer heat waves, melting glaciers and increased droughts, floods, biodiversity loss, desertification and ecosystem degradation in terms of flora and fauna species. There are institutional shortcomings in addressing these issues — outdated regulation, path dependence of institutions, capacity and strategic vision, planning and funding. Dr. Abdullaev emphasized the important role of multilateral environmental cooperation in addressing these environmental issues both at the regional and national levels in the countries of Central Asia.
During the meeting with the leadership of the MDIS-Tashkent, Dr. Abdullaev discussed potential areas of cooperation between the CAREC Institute and the MDIS-Tashkent through research exchange programs and knowledge sharing activities. The parties discussed the possibility of organizing the CAREC Think Tank Development Forum in Tashkent in the near future.