CAREC Institute Contributes to Discussions on Green & Low-Carbon City Development
31 Oct 2022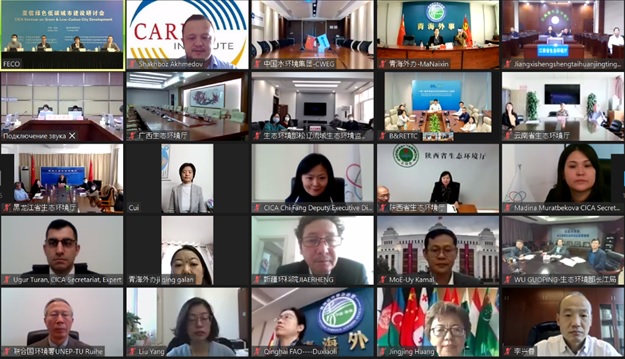 On October 31, Mr. Shakhboz Akhmedov, Senior Research Fellow of the CAREC Institute, spoke at a seminar on Green & Low-Carbon City Development, organized by the Conference on Interaction and Confidence Building Measures in Asia (CICA) and Foreign Environmental Cooperation Center of China, Ministry of Ecology and Environment of China.
The seminar was aimed at sharing experiences and models in green and low-carbon city development, learning the policy measures for building green and low-carbon cities and exchanging knowledge about the application of green and low-carbon technologies. The event was attended by representatives of environmental authorities, cities, research institutions and enterprises from the CICA member countries, as well as representatives of international organizations and financial institutions.
The presentation of Mr. Shakhboz Akhmedov was devoted to the problems of climate change and energy development in Central Asia. These two factors are interrelated and influence each other: the decarbonization of energy systems affects climate change, and climate events affect energy systems. The energy sector of the CAREC countries is already facing problems of low energy efficiency, limited regional interconnectivity and insufficient private financing. It is largely state-owned, subsidized and based on non-renewable energy sources.
Due to both continued population growth and economic development, energy projections indicate that power demand in Central Asian countries will increase by at least 50% and in Kazakhstan by almost 90% by 2050. Achieving long-term electricity generation while reducing carbon emissions will not be an easy feat for Kazakhstan, Turkmenistan, and Uzbekistan, where the electricity industry is dependent on fossil fuel combustion.
The share of non-hydro renewable resources is low in the fossil fuel-rich Central Asian countries, which already face energy shortages and aging infrastructure, as well as increasingly inefficient and unreliable energy generation facilities. "Adding new capacities due to the huge potential of all types of renewable energy sources will increase reliability and cover energy needs of the Central Asian countries in the future," said Shakhboz Akhmedov.
The countries of Central Asia will further benefit from regional cooperation to improve the efficiency and development of existing and creation of new intra- and inter-regional generating capacities and infrastructure. Regional cooperation promotes the harmonization of renewable energy policy standards and the exchange of best practices in policy development and implementation.