CAREC Institute Contributed to Discussion of Financing Decarbonization Efforts in East Asia
20 Apr 2022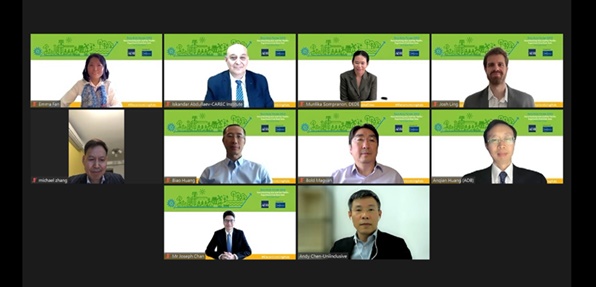 CAREC Institute's Deputy Director Two Dr. Iskandar Abdullaev participated at the Regional Exchange 1: Financing Decarbonization Efforts session as a panelist at the ADB and ADBI organized East Asian Forum 2022: Decarbonizing Asia and the Pacific: Experience from East Asia on April 20, 2022.
According to CAREC Institute's study on energy governance, the electricity demand is projected to grow with a compounded annual growth rate of 2.4% in the CAREC region, excluding China, from an index value of 100 in 2015 to an index value of 228 in 2050. Keeping the efficiency factors of generating assets observed in 2018 as constant, and if each country were to attempt to attain self-sufficiency in generation, the region would require the addition of an estimated 192,000 MW in incremental capacity by the year 2030 to replace some 80,000 MW of fossil fuel fired generation.
However, the renewable energy deployment as a part of the electricity sector transition in the Central Asia is slow. This is frequently attributed to abundant fossil fuel availability, dependence on low marginal cost hydro power, the inability to invest into upgrades or new projects and institutional inertia.
Dr. Abdullaev stated that Central Asian countries consider a large range of adaptation measures. Intended nationally determined contributions and nationally determined contributions include the overarching objectives such as reducing the vulnerability, increasing adaptive capacity, and improving resilience, increasing land use productivity, increased water use efficiency and reducing rural poverty.
With economic and population growth and an increasing energy consumption in the CAREC region, the sector presents a good collection of short-term and long-term opportunities for investors. Policy reforms aimed at improving macro-economic and sector-specific policy environment and governance would attract investors into the sector.
The renewable energy power purchase agreements can play as an important tool in helping the sector to meet the international standards and requirements and can used as "bankable assets" in negotiations with development partners, investment funds and mainstream commercial lenders. Governments can start offering potential investors deemed generation benefits (a "take-or-pay" contract), mechanisms to compensate investors in the event of premature and unilateral suspension or termination of the power purchase agreements by the counterparty concerned, and offering recourse to international arbitration, conducted in a mutually accepted language of communication.
The regional cooperation and regional exchange of "best practices" , investments and innovative solutions are also very important part of the green energy development in CAREC region.