CAREC Institute attends the 56th ADB Annual Meeting
6 May 2023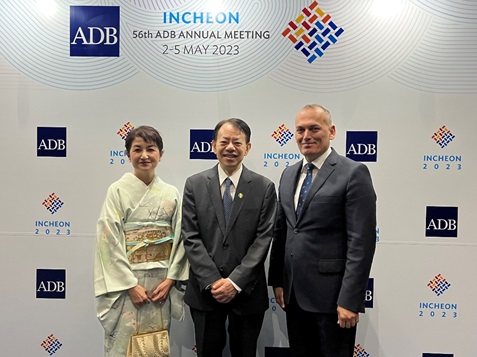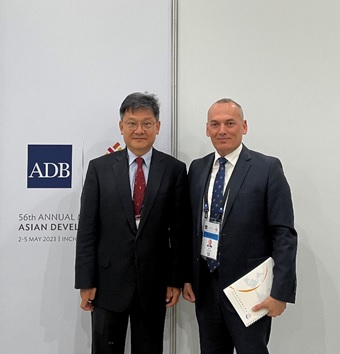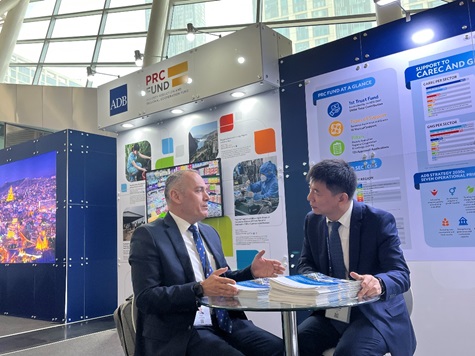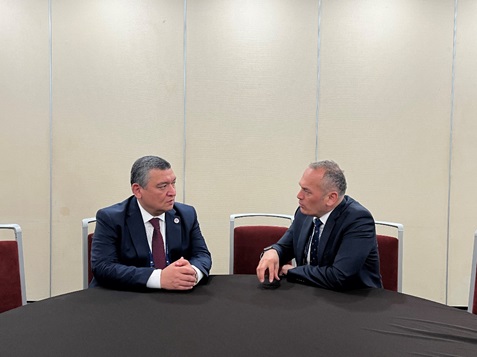 Mr. Kabir Jurazoda, Director, and Mr. Josh Hu, Chief of Human Resources and Finance Division, CAREC Institute, attended the 56th ADB Annual Meeting in Incheon, Korea. They held discussions with representatives of the Asian Development Bank (ADB), the ADB Institute (ADBI), the Export–Import Bank of China, the ASEAN+3 Macroeconomic Research Office (AMRO), the People's Republic of China (PRC) Poverty Reduction and Regional Cooperation Fund, CAREC National Focal Points from the People's Republic of China, Kazakhstan, and Tajikistan, and others.
On May 2, Director Kabir Jurazoda met with ADB Vice President Mr. Shixin Chen, ADB Director General for Central and West Asia Mr. Eugene Zhukov and Director General for East Asia Ms. Teresa Kho to discuss the possibility of organizing additional events of the CAREC Institute at the CAREC Ministerial Conference, strengthening the institute's internal capacity in line with its regional mandate and expanding knowledge services for CAREC member countries, promoting the role of organizing South-South knowledge exchange through cooperation with national and regional think tanks and CAREC member countries. ADB representatives stressed the importance of the CAREC Institute improving its research capacity and presenting its own research products. They also stressed that the institute should continue research in the field of regional cooperation and learn from the experience of neighboring countries. Mr. Kabir Jurazoda invited Vice President Mr. Shixin Chen to visit the 7th CAREC Think Tank Development Forum in Urumqi this August.
Productive individual meetings were held with Mr. Tetsushi Sonobe, Dean of the ADBI, Mr. Weihua Liu, Executive Director of PRC at the ADB, Mr. Kouqing Li, Director of AMRO, and others. During these meetings, the parties agreed to continue working on joint research and capacity building.