CAREC Institute at the Economic Forum in Karpacz
7 Sep 2023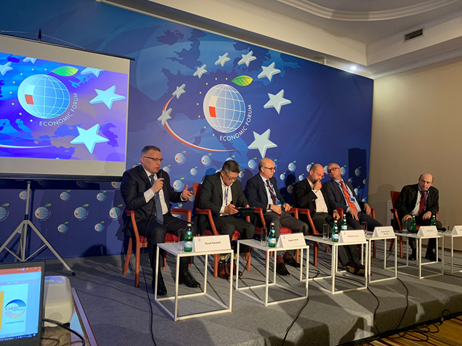 CAREC Institute Chief Economist Dr. Hans Holzhacker participated in a panel discussion on "The Middle Corridor connecting Europe to Asia" during the 32nd Economic Forum in Karpacz, Poland. The Economic Forum was held under the theme "New Values for the Old Continent – Europe on the Threshold of Change," and brought together political, economic and social leaders from more than 60 countries to exchange views and knowledge.
The Middle Corridor, due to its unique geographical location, plays the role of a vital bridge connecting Europe and Asia. It connects the resource-rich countries of Central Asia with the industrial centers of Europe, making the Middle Corridor a key point for energy transit, trade and economic cooperation throughout the South Caucasus. The panel discussants highlighted the importance of the Middle corridor while pointing also to bottlenecks and the challenges of the corridor's development.
During the panel discussion, Dr. Hans Holzhacker noted that revenues from exports of transport services are significant for some CAREC economies that can range from 2% to 5% of GDP for more involved countries. However, the real importance of transport corridors is that they increase connectivity, especially for landlocked economies. Moreover, transport corridors should not only serve for transit, but also help build economic corridors. Therefore, providing proper modes of transportation, and paying attention to the first mile and last mile so that local business can participate is of high importance.
According to CAREC Corridor Performance Measurement and Monitoring data, the average speed of travel along CAREC corridors without delays has improved significantly, especially by rail, but the speed with delays has not improved as much. Dr. Hans Holzhacker suggests that CAREC countries work together not only to build the hard infrastructure of CAREC corridors, but also to improve soft infrastructure and trade facilitation measures such as single windows and paperless SPS systems.