Call for Applications for CAREC Institute Visiting Fellow Program
12 Mar 2023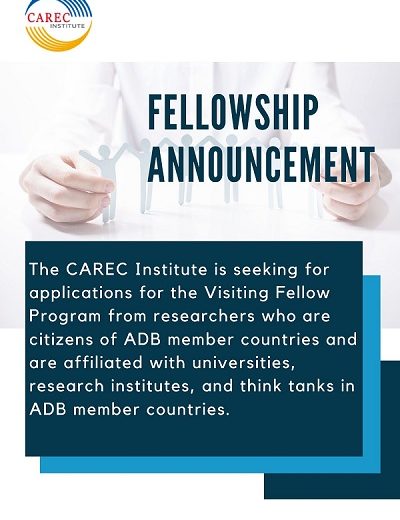 The CAREC Institute announces an open call for applications under the fourth round of the Visiting Fellow Program from researchers who are citizens of ADB member countries and are affiliated with universities, research institutes, and think tanks in ADB member countries. Ideally, visiting fellows should have completed their post-graduate degrees at the time of application.
The fellowships are intended for scholars at all levels to pursue research on a topic that is relevant to the CAREC 2030 operational priorities. Strong preference will be given to applications with proposed research which address cross-border issues in the CAREC region that are considered of strategic importance to the region's important policy challenges. Research projects are invited in the following thematic areas:
• Trade and investment in increasing regional value chains.
• Achieving 'better recovery from the pandemic' by supporting resilient policies, particularly in tourism, water and climate change sectors.
• Facilitating cross-border infrastructure and connectivity among member countries.
• Exploring healthcare system and underlying drivers (PPP, accessibility, quality and cost) of the healthcare system.
• Leveraging digital technologies for sustainable economic development.
Visiting Fellows are encouraged to combine topics and themes and come up with innovative approaches toward regional integration. There is a preference for applications with proposed research which engage with wider issues that have an impact on the region and address these issues within a multidisciplinary framework. A comparative inter-regional analytical approach that draws on similar experiences within the Asia-wide region is especially welcome. A multi-country analysis (at least three, preferably four or more countries) approach will be given preference. The applications with proposed research that cover single-country analysis will not be considered.
Fellows are expected to produce a joint paper and related outputs such as policy briefs, short stories, and other high-quality materials and present the paper in a public event organized by the CAREC Institute.
The duration of the fellowship is three months. Fellows will receive a fixed honorarium of USD 10,000 for the duration of the fellowship.
The application form and updated CV (max. 2 pages) should be submitted online by 5 pm. Manila/Beijing time on 31 March 2023 to the following address emmat@carecinstitute.org.
For more information, including the application form, program requirements and timeline, please read the following document.
Key Document
Call for Submission of Applications for CAREC Institute Visiting Fellowship Program