Blue Peace Process Webinar on Water Management in Central Asia
15 Apr 2021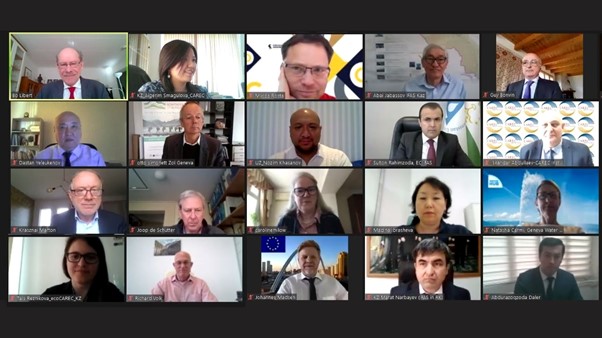 On 15 April 2021, the CAREC Institute Deputy Director Two Dr. Iskandar Abdullaev participated in a webinar organized in the framework of the program titled "Water as a driver of sustainable recovery: economic, institutional and strategic aspects of water resources management in Central Asia," supported by the Blue Peace of Central Asia initiative of the Swiss Agency for Development and Cooperation, and the Stockholm International Water Institute, with attendance of experts from sector ministries of Afghanistan, Kazakhstan, Kyrgyzstan, Turkmenistan, Uzbekistan; EU, GIZ, and academia.
Participants discussed that national solutions alone are insufficient to cope with the long-term consequences of the climate change. They welcomed the high-level political will of recent years to strengthen regional cooperation on water. Now, the priority lies in translating this political will into concrete actions: joint strategies and bankable projects. Establishment of river basin organizations, including all riparian countries, with a broad and inclusive mandate, proper budget, and with participation of water, energy and environment sectors, economists, and financial experts in the Amudarya and Syrdarya basins was also discussed.
Discussions also focused on water as a trade connector and SDGs 5 and 6 which are essential for achievement of all SDGs. It was argued that applying the concept of Integrated Water Resources Management (IWRM) as a tool could help provide guidance on balancing the interests of various sectors dependent on water, as the economies of riparian countries are inextricably linked by the two big rivers.
Dr. Abdullaev presented CAREC Institute's recent research on climate change, WASH, and water infrastructure financing. He reasoned that smart climate policies and serious reforms in the water sector can help address regional water issues. He argued that analysis of investment needs of the water sector of upstream and downstream countries demonstrates not only high-level complementarity but interdependence. This way, he stressed importance of a smart regional investment concept which shall be further elaborated in a collaborative format.