Workshop on Promoting Sustainable Economic and Social Development
26 Sep - 30 Sep 2022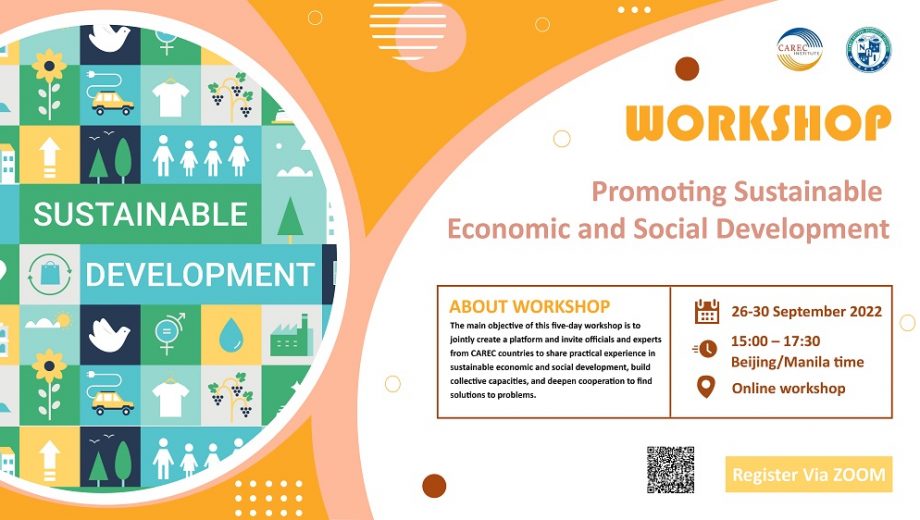 The CAREC Institute (CI), in collaboration with Xiamen National Accounting Institute (XNAI), will host an online workshop on the theme "Promoting Sustainable Economic and Social Development" on 26-30 September 2022 at 15:00 – 17:30 Beijing/Manila time under the Capacity Building Program for Asian Economic and Financial Talents.
The main objective of this five-day workshop is to jointly create a platform and invite officials and experts from CAREC countries to share practical experience in sustainable economic and social development, build collective capacities, and deepen cooperation to find solutions to problems.
The workshop will invite experts from international institutions, officials from the Ministry of Finance of the People's Republic of China, renowned scholars, and relevant executives from related institutions and enterprises. The experts and speakers will deliver lectures, present case studies, and conduct seminars on sustainable development goals, inclusive growth in the post-pandemic era, digital economy, green finance, public-private partnership, etc.
The language of the workshop will be English with simultaneous Russian interpretation.
Participants can register and join the workshop through the following link
Event Materials
Key Documents