Workshop on "Charting a Pathway towards a Green, Climate-Resilient Economy Recovery in Asia in Post-COVID-19 Era"
30 May 2023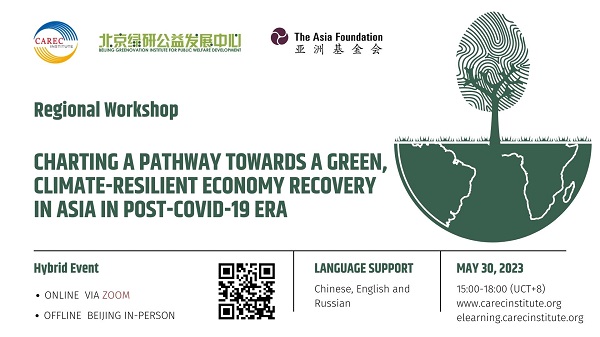 The CAREC Institute, in partnership with Beijing Greenovation Institute for Public Welfare Development, supported by the Asia Foundation, will organize a hybrid workshop on 30 May 2023.
The event aims to promote green, low-carbon and climate-resilient cooperation in Asia, via knowledge sharing and capacity building, with the following specific objectives:
1)Better understanding of China's experiences and lessons on the green, low-carbon and climate-resilient transition in key areas such as air pollution control, energy transition and green finance development, etc.
2)Better understanding of the demand and development priorities of key developing countries in Asia in terms of green and low-carbon economic recovery in the post-COVID era.
3)Identify common areas for future cooperation between China and key countries in the region in the green, low-carbon and climate-resilient development in the near term.
Representatives from governments, think tanks, academia, international financial institutions, and civil society will gather at the workshop to discuss how to accelerate Asia's energy transition and green economy recovery with the support of finance through multilateral cooperation.
The seminar will take place on May 30 from 15:00 to 18:00 Beijing time in a hybrid format with online and in-person participation in Beijing (venue to be confirmed).
English, Chinese and Russian simultaneous interpretation will be provided.
You can download the agenda of the workshop from here.
To participate in the online event, please use the following link:
https://us02web.zoom.us/j/84395342605?pwd=UEJQSnEzR1lDNEpmQW1jeHcrREZEUT09
Event Materials
Key Documents