Webinar on Central Asian Regional Cooperation on Water Resources, Energy and Climate Change
30 Jan 2023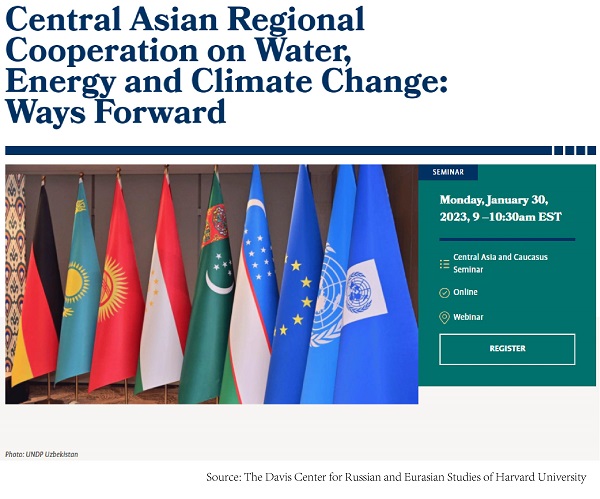 The CAREC Institute and the Davis Center for Russian and Eurasian Studies of Harvard University will jointly host a webinar to discuss the issues of regional cooperation in Central Asia on water, energy and climate change on January 30, 2023, 9:00-10:30 AM EST.
The countries of Central Asia can benefit from the green energy transition if they develop strong and effective regional cooperation mechanisms on water, energy and climate change. There is a growing understanding of the necessity and promise of working together. In July 2022, the presidents of five Central Asian republics signed the "Regional Green Agenda Program for Central Asia." This positive trend needs to be supported by smart policies and real changes on the ground.
Two representatives of the CAREC Institute — Deputy Director Two Dr. Iskandar Abdullaev and Senior Research Fellow Mr. Shakhboz Akhmedov — will participate with other international experts in a panel discussion on the current state of regional cooperation on water, energy, and climate change in Central Asia, existing opportunities and limitations, and ways forward.
To register for the webinar, follow the link:
https://daviscenter.fas.harvard.edu/events/central-asian-regional-cooperation-water-energy-and-climate-change-ways-forward