Webinar "Central Asia's Climate Risks: Can Energy Diversification Help?"
25 Oct 2022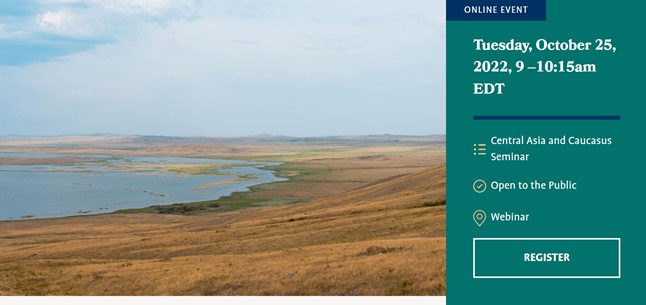 The CAREC Institute and the Center for Russian and Eurasian Studies at Harvard University jointly organize an open webinar "Central Asia's Climate Risks: Can Energy Diversification Help?" on October 25, 2022, 9:00-10:15am EDT. The webinar will bring together academia, policy makers and representatives of international financial institutions to discuss climate change and mitigation measures affecting the water-energy nexus in Central Asia.
The webinar will focus on the issues of climate change vulnerability, the current state of the water-energy nexus, and the shortage and promise of regional cooperation in Central Asia. It will draw on the findings of the two recent reports published by the CAREC Institute: Sustainable Pathways to Energy Transition in the CAREC Region: A Governance Perspective and Water-Agriculture-Energy Nexus in Central Asia Through the Lens of Climate Change.
The CAREC Institute reports highlight that the downstream countries of Central Asia – Kazakhstan, Turkmenistan, and Uzbekistan – already experience water stress, and any further gap between water availability and demand would exacerbate water scarcity. This will negatively affect the region's agriculture, security, and well-being. Water is also of crucial importance for the renewable energy transition in Central Asia. Hydropower development can contribute to satisfying the growing energy demand and help with balancing the intermittent energy sources provided by solar and wind power generation. The decarbonization commitments adopted by Central Asian states make tackling the interlinked challenges of water management and energy security even more pressing. Both reports recommend promoting robust regional cooperation and governance mechanisms to address these challenges.
Link for registration:
https://daviscenter.fas.harvard.edu/events/central-asias-climate-risks-can-energy-diversification-help