Virtual Conference: Trade Facilitation in CAREC: A 10-year CPMM Perspective
17 Aug 2022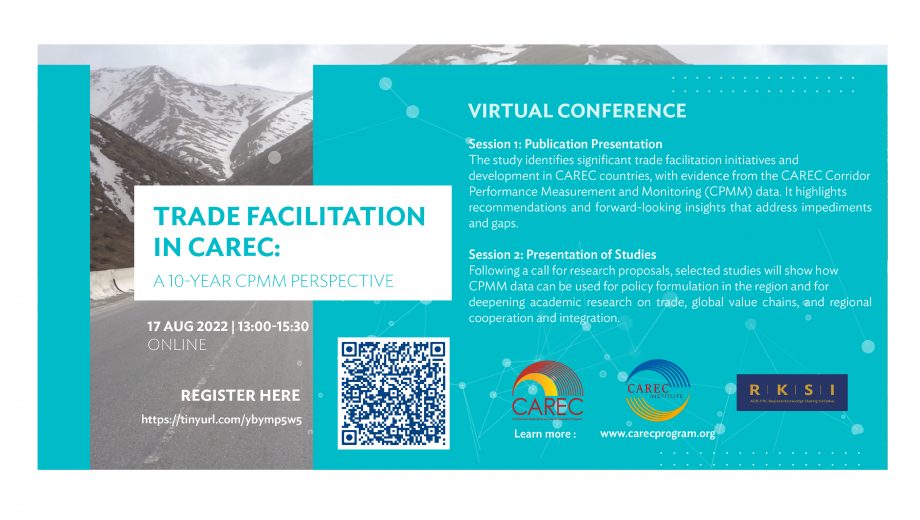 The CAREC Institute, in partnership with ADB and CAREC Program, will hold a virtual conference on the theme of Trade Facilitation in CAREC: A 10-year CPMM Perspective at 13:00-15:50 Manila time on 17 August 2022.
The conference is to present findings of a study that identifies significant trade facilitation initiatives and development in CAREC countries, with evidence from the CAREC Corridor Performance Measurement and Monitoring (CPMM) data. And it also aims to present selected studies that employ CPMM data and demonstrate how it can be used for policy formulation in the region and for deepening academic research in relevant areas.
It will gather leading academics, policymakers, and international organizations to discuss the studies and policy implications related to CAREC transport and trade facilitation and how CPMM data and findings can be used to support policy formulation in the region.
Please register here:https://adb-org.zoom.us/meeting/register/tJEpdOispj0sEtBQbTLsiwP3UbF05z9Dl8bR
Event Materials
Key Documents