The Third Meeting of CAREC Institute Advisory Council
21 Oct 2020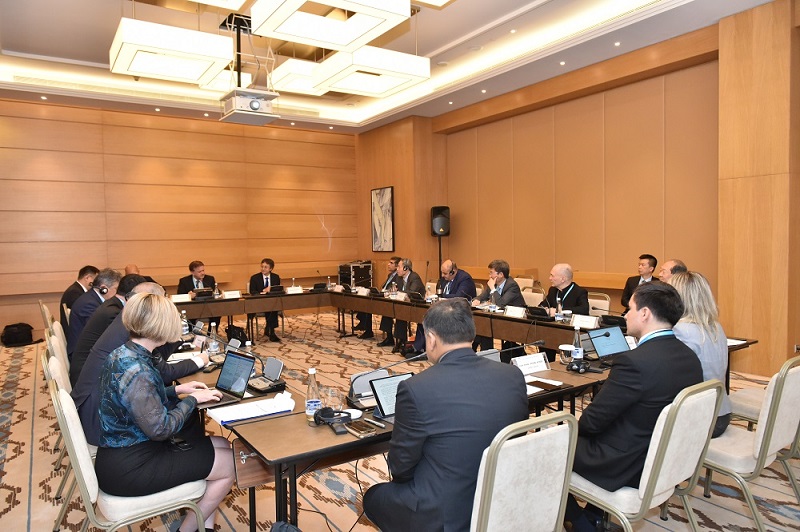 The CAREC Institute held the third meeting of its Advisory Council on 21 October 2020 in a virtual mode. The Council discussed the mid-term review of the Institute's strategy 2018-2022, its response to COVID-19 pandemic, and a proposal regarding the annual flagship publication.
The Advisory Council serves the CAREC Institute as a sounding board and a source of new ideas to enhance its approaches.
The meeting participants included the CAREC Institute representatives, five prominent experts from National University of Mongolia; Ministry of Finance, Revenue, Economic Affairs of the Government of Pakistan; Executive Office of the President of Tajikistan; Ministry of Finance and Economy of Turkmenistan; Experts' Centre of Investments of Uzbekistan; also special guests from the Asian Development Bank (ADB); Nazarbayev University of Kazakhstan; Asia Pacific Finance and Development Institute of the People's Republic of China (PRC), European Institute of Asian Studies of Belgium; and Tashkent Institute of Irrigation and Agricultural Mechanization Engineers.
The Council noted a significant uptake in the Institute's activities and outputs for the last 1.5 years since the second Advisory Council held in June 2019. Its adaptations during the COVID-19 pandemic and swift transition to online delivery of services were appreciated. Advice was given to revise the strategy and extend it for a safe duration to see how the new post-COVID-19 world will look like not to have a strategy which might be overtaken by events. It was also suggested to revise organization's performance measurement indicators, keep operational spending to the quarter of the budget, focus more on programmatic activities, deepen CAREC research to cover all regional cooperation, make research more inter-sectoral and inter-disciplinary, shift significantly to digitalization, and consider potential changes in the business model.
Further, the Council was presented an update of the CAREC Regional Integration Index (CRII). Findings for 2006-2019 period included:
 There is a slight increase in integration as measured by the CRII since 2008 including the PRC data, however numbers become even when excluding the PRC data.
 CAREC integration numbers are the highest in the dimensions of "regional value chains" and in "infrastructure and connectivity." However, the CRII dimension of "regional value chains" is strongly influenced by commodity exports and reflects insufficiently the need to develop more sophisticated regional value chains.
 Afghanistan was found to be significantly higher integrated than was the case in the previous CRII report.
 As expected, the PRC is highly significant for the "trade and investment" dimension in the region. Excluding the PRC data, the index results in substantially lower integration scores.
 Under the "infrastructure and connectivity" dimension, Georgia shows the strongest integration, Afghanistan – the weakest. Most countries demonstrate a tendency towards greater integration over time.
The Advisory Council suggested that the CAREC Institute publishes the current results rather soon but continues work on improving the CRII methodology and its capacity to reflect the most relevant dimensions for CAREC integration and cooperation.