Symposium on China-Central Asia Cooperation on Digital Economy Innovation and Governance
5 Jul 2023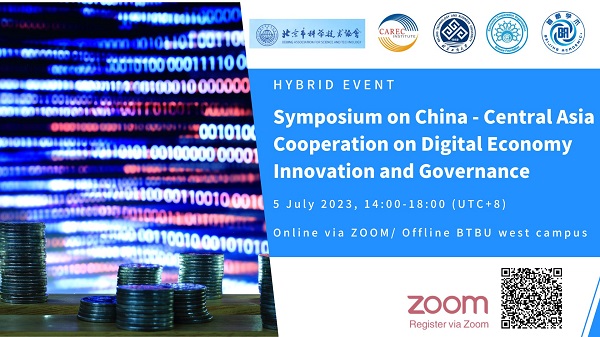 The CAREC Institute will hold a hybrid symposium on "China- Central Asia Cooperation on Digital Economy Innovation and Governance" on July 5, 2023, in partnership with Beijing Association for Science and Technology (CAST), Beijing Technology and Business University (BTBU), and Economic Cooperation Organization (ECO) Science Foundation.
The digital economy is the most promising new area of cooperation between the People's Republic of China (the PRC) and Central Asia countries. Cooperation has expanded in areas such as digital infrastructure, smart cities, and data security. The symposium aims to promote in-depth exchange and cooperation between the PRC and Central Asian countries in various fields of the digital economy.
The symposium will bring together research institutions, governmental agencies, enterprises, and international organizations to exchange ideas on digital economy cooperation, digital governance policies, innovative talent cultivation and the digital divide.
Please register using the following link:
https://zoom.us/j/83060197163?pwd=dE5sS1phQVFXUzB6SlR4YWE0QlI3QT09
Meeting ID: 830 6019 7163
Passcode: 0705