Roundtable on Research and Policy Trends and Prospects for Sustainable Post-COVID Recovery in Central Asia
27 Jul 2021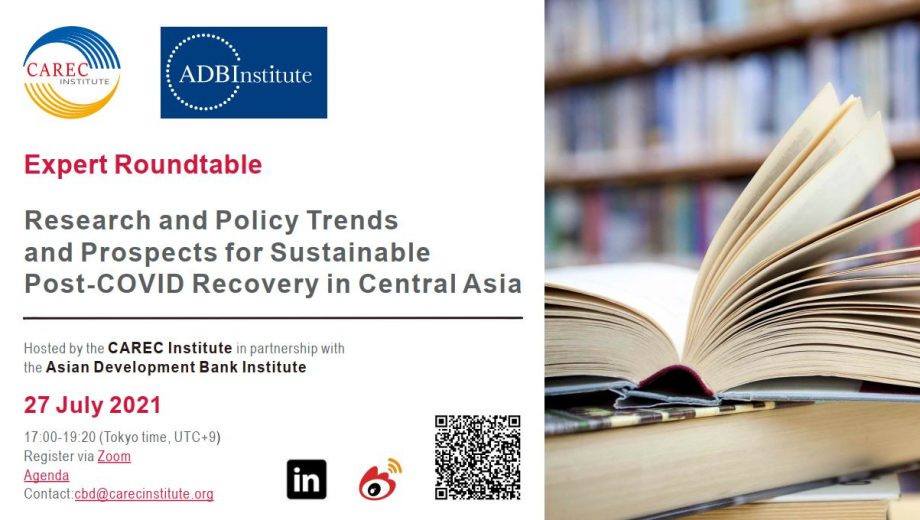 On 27 July 2021, the CAREC Institute and the Asian Development Bank Institute (ADBI) held a roundtable on research and policy trends and prospects for sustainable post-COVID recovery in Central Asia. Leading specialists discussed the role and relevance of think tanks in today's world, strategies for livable and smart cities, COVID-19 impact on MSME in four CAREC countries, Japan's fiscal management practices during the pandemic, and offered policy recommendations.
The CAREC Institute Director Syed Shakeel Shah and Principal Regional Economist of ADB Lyaziza Sabyrova gave opening remarks highlighting significant roles of research and capacity building during the pandemic times marred with uncertainties. Dean Sonobe of ADBI delivered the keynote address where he stressed the importance of identification of accurate and relevant research needs, delivery of evidence-based high-quality research, and provision of platform for policymakers to share insights with an objective to promote consensus and mutual understanding on the development agenda in the region. He also noted that the increased emphasis on digital outreach excludes some audiences due to poor internet connectivity, language barriers, and unavailability of sufficient number of policymakers with the event-specific expertise.
Ron Slangen of ADB talked about the urbanization trends in Central and West Asian countries where city population growth is projected from 131 million in 2015 to 237 million in 2050. He elaborated on challenges and presented the 4E approach of ADB's livable cities strategy 2030. His presentation also contained a number of recommendations with immediate and mid-term urgency which included adoption of an integrated strategic urban planning process, supporting more social protection measures for the vulnerable, improving the urban environment with uninterrupted basic services, strengthening financial sustainability and financial inclusion, and increasing use of technologies and digital solutions.
Nella Hendriyetty of ADBI elaborated on debt accumulation during the pandemic. According to her, the debt to GDP ratio of developing countries in Asia increased significantly to an average of 64.7% in 2020 from the decreasing trend since 2018 (55.8%) and 2019 (53.6%). She provided debt management recommendations for developing countries using Japan's experience. She advised that during a gap between government expenditure and revenue, the Japanese government raises money by issuing construction bonds for public works and special deficit-financing bonds. She then introduced Japan's fiscal and debt management policies, such as resource assurance rule, fiscal deficit reduction through consumption tax increase, stable revenue assurance for structural expenditures, bond redemption system, liquidity enhancement auctions, buy-back program, dialogue with market participants, etc. and explained why Japan's large debt is sustainable. She found it imperative to ensure this knowledge transfer.
Event Materials
Key Documents